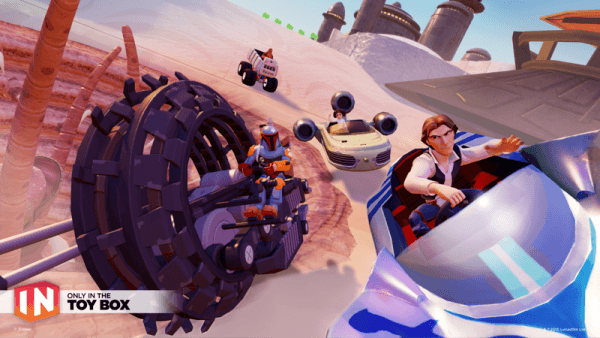 Rejoice Disney Infinity fans, as it is time to once again dive into the Toy Box, but this time we aren't just building our own worlds and hoping for the best. Disney will be officially releasing the Toy Box Expansion games in stores across the country from tomorrow!
The two games work similarly to the Disney infinity 2.0 Toy Box Game Discs, where you place the disc on your Infinity Base and are taken to a complete game experience. The two new games are;
Toy Box Takeover – When Syndrome gets his hands on Merlin's magic wand, it's up to the player to stop him.  Using their favorite characters in Disney Infinity, they must battle across multiple worlds, such as Pirates of the Caribbean, Marvel's Upper Manhattan, The Old West, or The Incredibles Volcano Lair to defeat the bad guys before they ruin the Toy Box forever. Family and friends can play together via two-player local co-op or four-player online.
Toy Box Speedway – Players can join their favorite Disney, Pixar, Marvel and Star Wars characters and vehicles in an action-packed kart-racer.  With nine franchise-themed tracks to choose from – Sugar Rush, Frozen, Tatooine, a classic Star Wars location, San Fransokyo, Agrabah, Monsters Inc., Halloween Town, Gravity Falls or Marvel's Knowhere – players can choose from three different game modes including Time Trial mode, Race mode and Combat mode.   Players put their driving skills to the test as they attack opponents with gadgets and weapons and earn trophies across three challenge cups.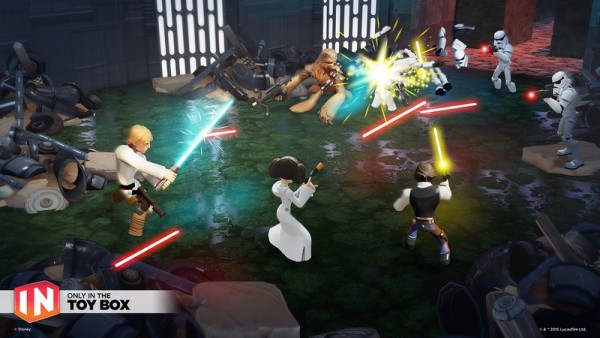 We actually reviewed Toy Box Takeover a little earlier this year, so click here to check out our review. With any luck, Toy Box Speedway will be just as fun and both combined will no doubt provide hours of fun for players everywhere. Also remember that the two games unlock a tonne of new Toy Box content for players to muck around with, so be sure to check them out!