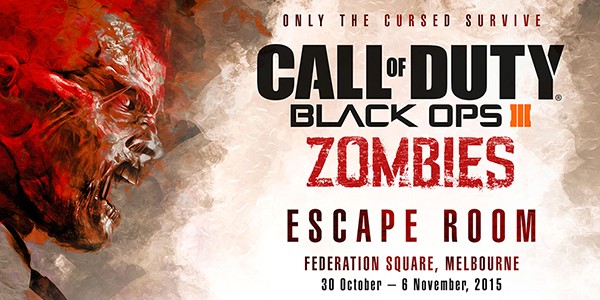 Activision will be jumping on the bandwagon for one of the hottest gaming trends in the world right now, escape rooms. The company will partnering with Secret Squirrel to set up an escape room in Melbourne's Federation Square from October 30th to November 6th, to promote the upcoming launch of Call of Duty: Black Ops III. The escape room is inspired by Black Ops III's zombie campaign entitled Shadows of Evil. Players will find themselves in Nero the Magician's private chambers and must solve several puzzles to escape within the time limit. Tickets are available for free at Eventbrite.
"People are craving more authentic experiences today, meaning immersive, experiential design continues to grow in popularity.  The Call of Duty: Black Ops III – Zombies Escape room is a unique opportunity for fans to experience a living, breathing narrative," said Tamasein Holyman, Creative Director, Secret Squirrel Productions.
Call of Duty: Black Ops III launches on PlayStation 3, PlayStation 4, Xbox 360, Xbox One, and Windows on November 6th.