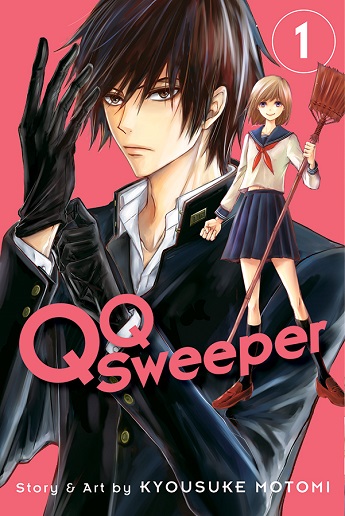 Viz Media has announced that they will be releasing a brand new shojo manga next month. This shojo manga is from Kyousuke Motomi, the author of series such as Dengeki Daisy and Beast Master (both of which are also published by Viz), and happens to be named QQ Sweeper.
QQ Sweeper is described as a supernatural high school drama and the first volume will be released at retail and as a digital download on October 6th where the print version will cost $9.99 U.S. / $12.99 CAN.
Since QQ Sweeper has already wrapped up in Japan at three volumes, Viz is planning on releasing subsequent volumes twice a year, though the company has not stated if they will pick up the sequel manga at this time.
QQ Sweeper follows the story of Kyutaro Horikita, a boy described as the handsome cleaning expert of Kurokada High, as he meets a sleeping tranfer student named Fumi Kyutaro. Kyutaro teaches Fumi how to rid the school of nasty spirits, and unexpectedly how to cleanse her own heart. Fumi's a natural at the supernatural, but the true secret behind her cleaning genius is muddled.