It's gamescom 2015 folks! In case you missed the Microsoft press conference, check out the recap with Xbox Newsbeat!
---
Xbox Unveils More of Its Greatest Games Line-up in History
The gamescom 2015 briefing served up the first gameplay videos for Crackdown 3, Scalebound, and Killer Instinct Season 3. Additionally, we saw more from Quantum Break, Rise of the Tomb Raider, Forza Motorsport 6, FIFA 16, Just Cause 3, Tom Clancy's Rainbow Six: Siege, Cobalt, and a slew of indie games participating in the ID@Xbox program. The real star of the announcements was probably the Halo Wars 2 reveal. The second installment of Halo strategy game is slated for launch on Xbox One and Windows 10 in fall 2016.
Additionally, Microsoft announced that Over-the-Air TV users will be able to use their Xbox One as a DVR for their antenna. This feature will come to all Xbox One owners in 2016.
---
Xbox One Backward Compatibility Launches in November with Over 100 Xbox 360 Titles
Microsoft has fleshed out their plans for Xbox One backward compatibility. The program is leaving beta in November with 100 games from Microsoft, 2K Games, Bandai Namco Games, Bethesda, Capcom, Codemasters, Deep Silver, Disney Interactive, EA, Koei Tecmo Games, Majesco, Sega, Square Enix, Ubisoft, and Warner Bros. Gamers can look forward to many of these games being bundled as bonuses with upcoming titles.
---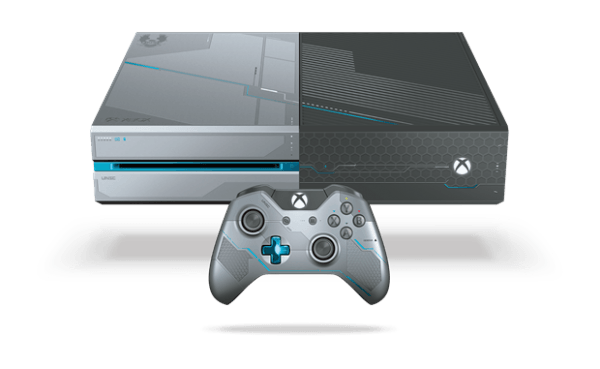 Halo 5: Guardians Goes Big with Premium Hardware
Microsoft is going all out with Halo 5: Guardians. the game will be seeing a limited edition 1TB Xbox One featuring a contrasting light and dark grey body with blue metallic accents. The console's sound effects have been completely replaced with effects from the game. The bundle also includes a matching limited edition Halo 5: Guardians controller, a digital copy of Halo 5: Guardians, the "Warzone REQ Bundle," an alloy Guardian model designed by Metal Earth, the Halo: The Fall of Reach animated series, team dossiers for Blue & Osiris, and Spartan Locke's classified orders. The console will be available on October 20th for $599.99 AUD.
Two limited edition controllers will also be available. One will be the same one bundled with the 1TB Xbox One, while the other is an olive green and gold controller inspired by Master Chief. Both controllers come with a bonus REQ Pack and are of the new design that includes the 3.5mm audio jack. The controllers will be available in Early October for an MSRP of $69.99 USD.
Finally, Microsoft and Astro Gaming are partnering to launch a Halo 5: Guardians themed Astro A40+Mixamp M80. The dark grey and blue metallic accents matches perfectly with the limited edition console and comes with a bonus REQ Pack. The headset has an MSRP of $220 USD and will launch in September.
---
Introducing the Halo World Championship
Halo 5: Guardians will be the first game in the new Halo World Championship series. The competition kicks off this winter with 4 vs 4 combat in Arena mode. The new Spectator Mode will let everyone join in on the action as the best gamers around the world compete for a million dollar prize pool.
Viewers can get their first taste at the ESL Arena at gamescom 2015. The Halo 5: Guardians gamescom Invitational 2015 features Epsilon Esports (EU), Supremecy (EU), CAZ.Esports (EU) and OpTic Gaming (NA) duking it out on an early game build.
---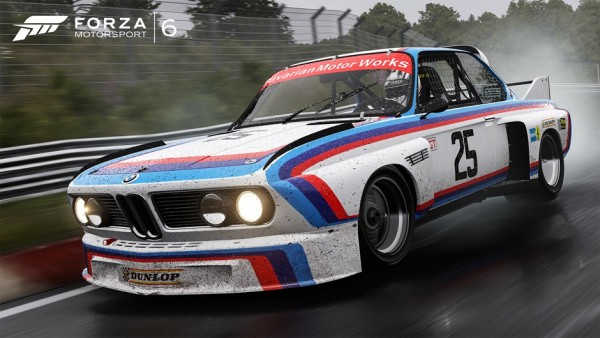 Forza Motorsport 6 Celebrates gamescom with New European Rides Added to the Garage
This week is bringing more garage announcements for Forza Motorsport 6. Last week was all about Britain, so this week we're hopping across the channel into continental Europe. As a nod to gamescom 2015, the two headlining vehicles are the German made 1975 BMW #25 BMW Motorsport 3.0 CSL and slightly more modern 2014 BMW #55 BMW Team RLL Z4 GTE. This week will see the following cars added to the garage:
1973 BMW 2002 Turbo
2012 Mercedes-Benz C 63 AMG Coupe Black Series
2005 BMW M3
1991 BMW M3
2009 BMW #92 Rahal Letterman Racing M3 GT2
2006 #2 Audi Sport North America R8
2013 Mercedes-Benz E 63 AMG
1998 Mercedes-Benz AMG Mercedes CLK GTR
1939 Audi Auto Union Type D
1989 #4 Audi 90 quattro IMSA GTO
2004 Audi S4
2015 Audi RS 6 Avant
2014 Volkswagen Golf R
2014 Bentley #7 M-Sport Bentley Continental GT3
2014 Dodge #93 SRT Motorsports Viper GTS-R
2014 Mercedes-Benz #84 HTP Motorsport SLS AMG GT3
2011 Audi #2 Audi Sport Team Joest R15++ TDI
2011 Mercedes-Benz #35 Black Falcon SLS AMG GT3
2004 Audi #5 Audi Sport Japan Team Goh R8
2015 Honda #5 Schmidt Peterson Motorsports IndyCar
2015 Chevrolet #67 CFH Racing IndyCar
2015 Honda #14 AJ Foyt Enterprises IndyCar
2015 Chevrolet #9 Target Chip Ganassi Racing IndyCar
2014 McLaren #98 ART Grand Prix MP4-12C GT3
2015 Honda #7 Schmidt Peterson Motorsports IndyCar
2011 BMW 1 Series M Coupe
1984 Volkswagen Rabbit GTI
2015 Audi S3 Sedan
1981 BMW M1
2006 Audi RS 4
2009 Audi RS 6
2009 Mercedes-Benz SL 65 AMG Black Series
1995 Audi RS 2 Avant
2010 Audi TT RS Coupe
2003 BMW M5
1983 Audi Sport Quattro
2011 Audi RS 5 Coupe
1995 BMW 850CSi
2014 Lamborghini #18 DragonSpeed Gallardo LP 570-4 Super Trofeo
1963 Volkswagen Type 2 De Luxe
1988 BMW M5
---
Four Easy Tips to Power up Your Windows 10 PC for Gaming
With millions of users upgrading to Windows 10 thanks to the free upgrade program for Windows 7 and Windows 8 users, Microsoft has released the following guide for gamers.
Tip #1: NEVER Defrag Your Solid State Drive (SSD)

You are better of installing your games onto an SSD, and you should seriously consider putting your Windows 10 installation onto an SSD (not the same one, though) as well. Solid state drives are just so much faster than rotational media – you'll spend far less time waiting around for things to load.

On top of that, you don't need to defragment them. Ever. In fact, defragmenting an SSD is just going to unnecessarily reduce its lifespan. So don't do it!

Tip #2: Get Rid of Unnecessary Apps and Memory Resident Junk

There are some quality third-party applications that can help you streamline your Windows 7 and/or 8 installations before you move up to Windows 10. The idea here is to get rid of the vestiges of old, or disused programs, or stuff that's booting up when you start your PC that you never, ever use. You'll free up memory by not booting that stuff at all.

MAGIX Software makes a program called PC Check & Tuning that can really dig deep into your Windows installation and make it easy for you to update drivers, streamline installations, and get rid of the stuff you don't need. SUPERAntiSpyware is an absolutely fantastic, free tool to get rid of any little nasty bugs and spyware that might have found a way into your system (and could be slowing it down, or worse). And CCleaner by Piriform is an awesome free alternative to MAGIX PC Check, which can clean out your dead files and installs – as well as your Windows registry – safely. AVG makes an all-in-one "Uninstaller" and "Program Deactivator," too, which can quickly and easily track down and kill anything you want to get rid of.

Tip #3: Slightly Overclock Your System

Editor's Note: We strongly recommend you not follow this tip unless you know what you are doing. Overclocking can result in permanent damage to your expensive computer parts if done incorrectly. Please do some research to decide if overclocking is right for you. Capsule Computers is not responsible for any damage you may do to your computer. 

Note that this one entails a little bit of risk – if your system is already running hot or if you're uncomfortable with overclocking, skip this step entirely. That said, most modern gaming rigs (especially if you've bought them from a reputable manufacturer) are more than capable of a 5-10% overclock with zero ill effects. Still, understand that overclocking always entails a risk.

If you've got a gaming-focused video card and/or motherboard, it should have come with some software that you can use to affect the clock speed. If so, go ahead and use that if you've got it. If not, check your video card manufacturer's website for their recommended software. You can also use AMD OverDrive, which is AMD's overclocking tool, if you have one of their chips. Intel makes an excellent stress-testing tool called Intel BurnTest that we recommend you use, to see just how much pressure you're putting on your system with any given overclocking setting that you decide to use. You don't need to be using an Intel processor to use it – but it works best with one.

However you decide to implement your overclock, we recommend not going over about 5-10% of the default setting (at most) for your CPU and memory clocks. Remember that overclocking adds heat to your entire system, not just the CPU and memory clocks. You don't want to push things too much!

Tip #4: Install User Mods to Your Favourite Games to Improve Performance

You might be surprised to find out that a whole mess of folks have already created modifications to your favourite games that make them run faster, look better, and do all sorts of weird (but cool) stuff. These mods are available, often for free, from all sorts of places on the web. Check them out at the Windows Store, on Steam, or through your favourite communities and social media sites. Applying mods to games like The Elder Scrolls V: Skyrim or Dark Souls II: Scholar of the First Sin can greatly improve not only the games' loading speeds, performance, and stability, but also the graphical fidelity and even the user interface.