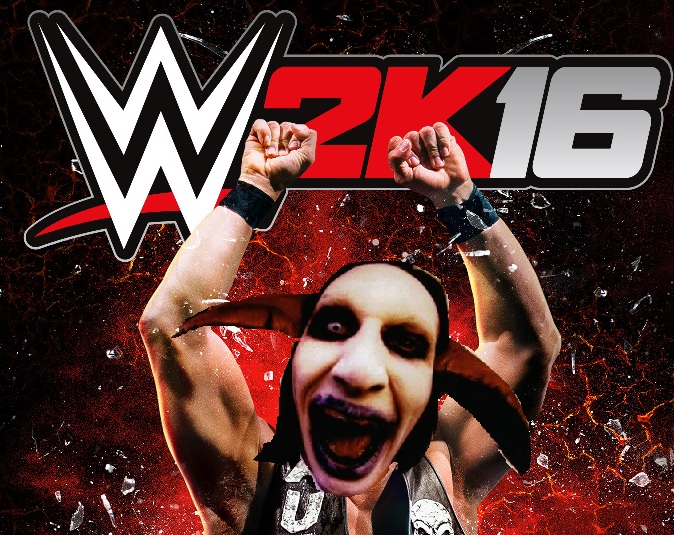 Honesty is an ok thing to have, and with that said- the soundtrack in WWE 2K15 was absolutely terrible. Never have I muted a video game more (or wanted to pull my ears off and beat my eardrums to death) than during the menu themes for 2K15, and luckily, WWE 2K16 will boast a different soundtrack. What does it have you say? Take a look below:
Billy Idol – "Rebel Yell"
Diplo (feat. Faustix & Imanos and Kai)  – "Revolution"
Fashawn (feat. Nas & Aloe Blacc) – "Something To Believe In"
Kid Ink – "Hello World"
Marilyn Manson – "Deep Six"
MGK (feat. Victoria Monet) – "A Little More"
Run-DMC – "It's Tricky"
Skid Row – "Youth Gone Wild"
Twenty One Pilots – "Heavydirtysoul"
Yelawolf – "Till It's Gone" [Dan Heath Remix]
Zac Brown Band (feat. Chris Cornell) – "Heavy Is The Hand"
Zedd (feat. Logic and X-Ambassadors) – "Transmission"

"Building on the success of the in-game soundtrack curated by WWE Superstar John Cena® last year, we were enthusiastic about partnering with 2K to raise the bar higher for WWE 2K16 with a memorable list of world-renowned artists," said Neil Lawi, Senior Vice President, WWE Music Group. "The WWE 2K16 soundtrack offers a diverse and exciting group of artists and songs including iconic tracks 'Rebel Yell' and 'Youth Gone Wild,' two of today's most sought-after electronic dance masterminds Diplo and Zedd, and current 'it' artists Twenty One Pilots and Yelawolf."
John Cena didn't have tastes that matched mine, but I can get behind some Run DMC and Marilyn Manson. I do however wish we could just have sample music as these developers (2K, listen up) need to realize that these tunes get old quick when making a wrestler, and most who create spend hours at a time crafting – even with last year's small amount of choice. You can check out the playlist here, and expect WWE 2K16 to debut later this year.