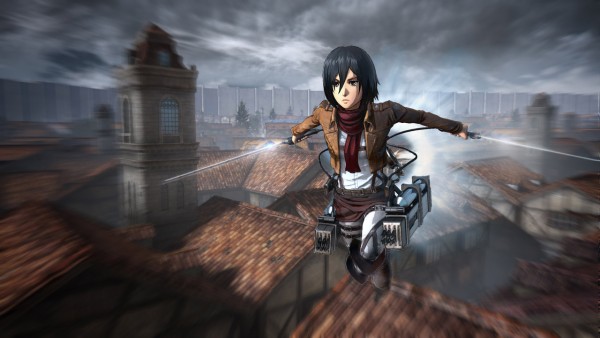 You may remember that at the start of the month Koei Tecmo announced that Omega Force is working on an Attack on Titan game for the PlayStation 4, PlayStation 3, and PlayStation Vita and recently the company decided to not only release some of the first high-res images of the game but also some new details of what to expect when the title is released in 2016.
First and foremost the game's main mode will cover all of the story content presented in the 2013 anime adaptation while also focusing on providing a number of additional scenarios to give some extra time in the spotlight for popular characters and all characters will feature the same voice actors from the show. According to the company they will be using a "Physics Toon Shader" to present the game with the same type of feeling of the anime by fusing it with the in-game world.
The developers are trying to focus on simplifying the 3D Maneuver Gear controls so new players won't be too off-put by the controls but they are also trying to maintain high levels of player maneuverability to provide tactical freedom to slash at the nape of a titan's neck, though attempting to disable it by destroying arms and legs is still a possibility. Though since the titans will be large opponents, there are times that the layout of the battlefield will change due to the titans destroying buildings or walls, limiting the movement of players and providing an ever changing environment.