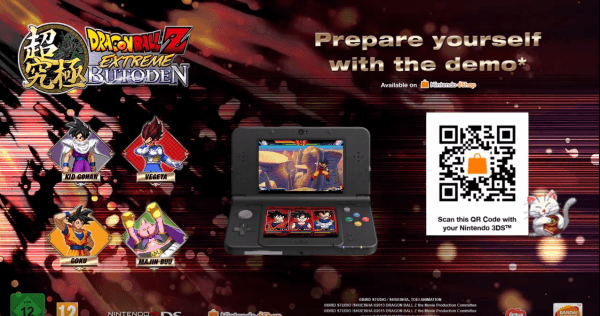 The demo for Dragon Ball Z: Extreme Butoden for Nintendo 3DS is available for download now on the Nintendo eShop across all regions! The demo has 30 uses, more than enough time for yourself to get accustomed to the game and how it plays which is essentially a Dragon Ball Z skinned sprite fighter not unlike the BlazBlue or Guilty Gear series.
The demo includes:
– 2 playable modes: Battle and Versus (2 players in Local)
– 4 playable characters: Goku, Gohan (Kid), Vegeta & Majin Buu
– 8 Z-Assists characters: Korin, Great Saiyaman, Hercule, Recoome, Tien, Turtle, Mercenary Tao & Majuub
– 5 stages: Rocky Area, Urban Area, World Tournament Arena, Planet Namek & King Kai's Planet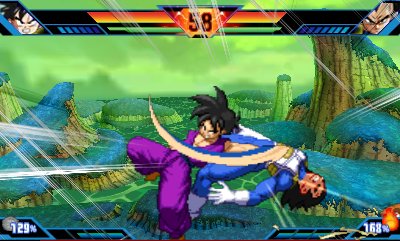 The official Dragon Ball Games Facebook page has noted if the demo receives 10,000 downloads then another character will be made available to play as via a code relayed through their social networking streams (my moneys on Frieza). Fans of the old SuperSonic Warriors Dragon Ball titles will no doubt feel right at home as this game has more than some inspiration from the old GBA and DS titles. While the demo is obviously withholding features, the full game will have a story mode and over 20 playable characters and 80 Z-assists characters.
While I am a huge Dragon Ball fan I have never been a fan of trying to fit the franchise into a typical 2D fighting game structure but Arc-System-Works efforts here are definitely impressive. Let us know what you think of the demo in the comments below. Dragon Ball Z: Extreme Butoden releases exclusively on the Nintendo 3DS on the 16th of October. Those in Europe can also purchase a New 3DS Extreme Butoden bundle that contains exclusive faceplates for the New 3DS based around the game.