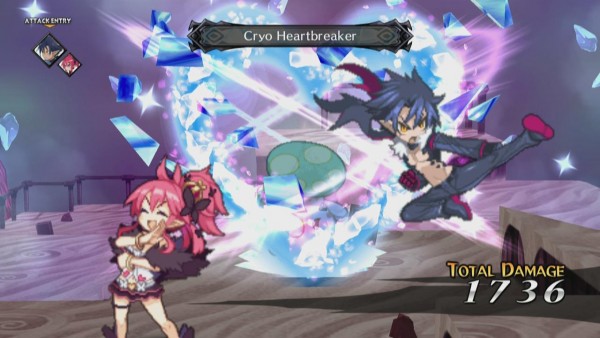 The Disgaea franchise has always had plenty of different mechanics to work with both inside and outside of combat and now with the upcoming release of Disgaea 5: Alliance of Vengeance even more systems have been added to the game. In order to try and explain some of these new details and features NIS America's Tiffany Chin explained most of these mechanics as well as the company's DLC plans for Disgaea 5: Alliance of Vengeance over on the PlayStation Blog and you can read the pertinent details below:
Curry Shop over


The Curry Shop is a new facility on the base where you can create different types of curries, which will give the squad temporary effects that last about one battle. Most of these recipes will give boosts in stats, but not all are good! Some can have a negative effect and are even poisonous!

Nether Research Squad

When your squad isn't out fighting the good fight, you can deploy some of your recruits to explore the other Netherworlds through the Nether Research Squad. While they're off researching the Netherworlds, they'll be unlocking new worlds to visit, finding rare items in other worlds to bring back, and gaining experience for your squad members as they're off exploring.

Netherworld Editor

These new Netherworlds will sometimes have special world effects, such as Icic-Hell's snowy world that lowers all characters' fire resistance. But don't fret — you can override these Netherworld effects with the Netherworld Editor! This new feature allows you to create new Netherworlds for other people to encounter and play, and if one of the worlds is summoned while you're in a map, the summoned Netherworld effects will override the effects of the current world.

Alchemy

With the new Alchemist feature, you can have items created for you while you're off to battle! Create a brand new item and add Innocents to power up each copy. Don't have enough innocents for your plentiful supply of items? The Innocent Shop can help with that; this shop acts like a warehouse to hold all your precious Innocents while breeding new ones at the Innocent Farm out back. Sometimes if you leave two Innocents alone together at the Innocent Farm, a third will appear with more rare and powerful effects!

Downloadable Content

NIS America will be releasing 5 batches of DLC which allow you to encounter the characters from Disgaea 3, Disgaea 4, and Disgaea D2 in various Netherworlds, as well as other games like La Pucelle! There will also be a season pass available and if you get all the DLC, you'll unlock Pleinair as a playable character for free!
Disgaea 5: Alliance of Vengeance is set to be released in North America on October 6th and on October 9th in Europe and to go alongside these extra details, NIS America has released English character trailers for Killia and Seraphina and you can check those out below.
Killia
Seraphina