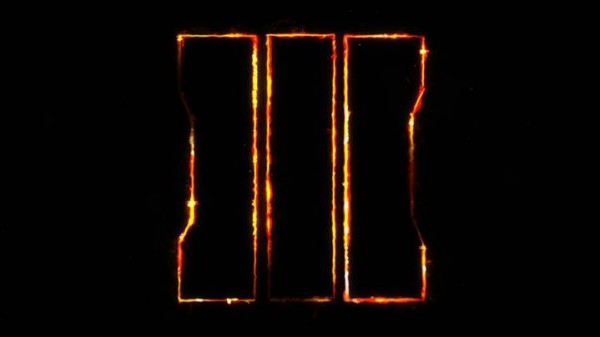 I think at one time, Activision was getting worried about Call of Duty becoming stale. I mean, we now have three different developers working on the franchise – trying to play quality control so we do not see a flop, but its more than staleness that has this namesake changing from year to year. Call of Duty is in an identity crisis. That isn't a bad thing as all long-lasting franchises go through this, but right now- the world's shooter is stuck in the future, and attempting to innovate a tad in the genre with mechanics that seamlessly fit right into multiplayer. Call of Duty: Black Ops III is Treyarch's turn to show off its technical abilities, and what a change this is from the past titles in their own line-up.
After getting a full scope of the beta, I want to say that I feel like Advanced Warfare comparisons are not really going to do it with this one, as while the same "futuristic" theme applies, Black Ops III is still grounded enough to stick to the basics, and I think most long-time fans will appreciate that notion. The first thing that is sure to jump out at players are the visuals. I know, we have seen a lot of change with Call of Duty over the years – trying to shake that brown and grey stigma that seems to haunt first-person shooter titles everywhere, and most of the time the change is just to blue and grey or more of an orange. Black Ops III features more color than just about any COD title to date. The world is fascinating because of all the rich color and realistic textures, even though it does sacrifice the Call of Duty feel (or atmosphere, if you will) in order to put on this show. The end result however seems to be a game that has matured through feedback while still being able to keep an experience in-tact when it comes to players going to war in exciting battles.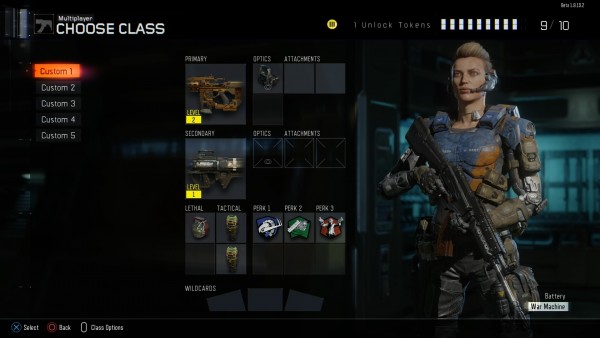 Instead of having a ton of random accessories to change the look of the battlefield, Black Ops III adds in abilities that players can earn to quickly turn the tide of combat. For instance, if a player has the correct class equipped, they can quickly gain bullet invulnerability for five seconds. That might not sound like a lot, but it completely changes the game in terms of balance. To balance across the whole field, other classes possess the abilities to throw special weapons or emit a sonar to pick up a nearby enemy location (which is handy for snipers). I'll admit, I didn't play a lot of the multiplayer for the last few titles, so coming into these changes reminded me when I played the beta for Halo Reach and encountered its new class system. It takes time to get used to, but we as the players get a much more fun game overall with more options. There still is a perk system for those curious that allows for special bombs and such to be rewarded, but I think these extra abilities will certainly add in a flavor that will attract players away from Destiny and back into Call of Duty. Yes, it seems Activision may just be competing with themselves here.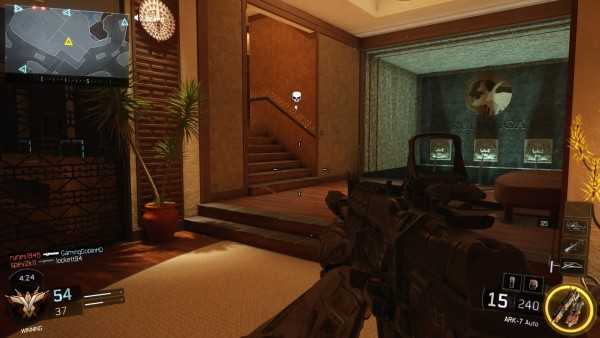 As for the maps involved, I was quite pleased with the selection overall. There were only three maps to play in the beta, but all – while different in look and design seem to compliment the new abilities and gameplay. For instance, the new wall-running mechanic works well in a lot of high up, narrow areas and actually shifted the momentum in my own direction when facing random players. The Outrider class also seem to be an early fan favorite. I can easily say that you should expect to see a lot of bow kills. While they take a little bit more skill to learn, this weapon contains pure satisfaction. Oh, speaking of kills, It would also be wise to mention you can die a lot easier in Black Ops III. This definitely is decent news considering how hard it was to take people down in prior titles, but also gives the edge back to campers who stay in one nearly closed-in area and shoot groups passing by from the side. This is the beta so that may change, but that really was my only complaint during my time with the game.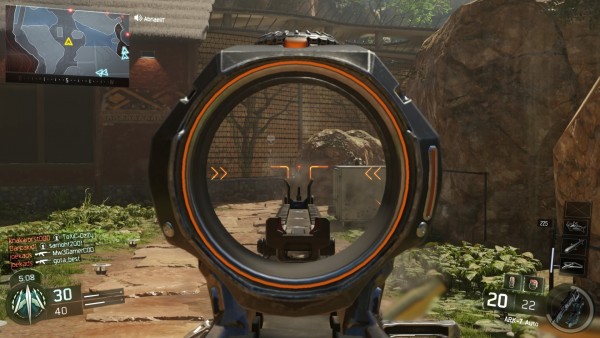 Call of Duty: Black Ops III seems to be a game that finds its footing in the future, but incorporates enough of its past to make a varied yet outstanding experience for the fans that have been so loyal to the name throughout the years. This is just a beta and everything is subject to change, but if we continue to see this layered multiplayer during the launch – I would say that the king may indeed reclaim his throne due to Treyarch's fine work and major attention to detail. Stay tuned folks, as Black Ops III launches November 6th.