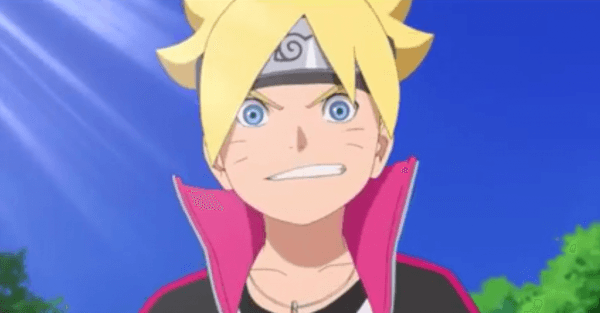 Viz Media has announced that they are teaming up with Eleven Arts in order to bring Boruto: Naruto the Movie to as many theaters across the United States starting on October 10th.
With Naruto as the Seventh Hokage, the Hidden Leaf Village plans to host the Chunin Exams to train new shinobi from the village and from their allied villages. Among the entrants are Sasuke's daughter, Sarada, Mitsuki, an exceptionally talented yet mysterious shinobi… and Boruto, Naruto's talented but impetuous son.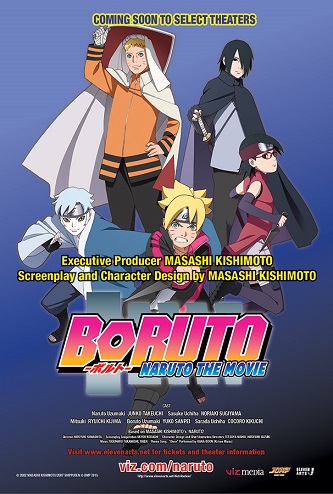 Meanwhile, Sasuke who's been on a mission in another dimension appears before Naruto to warn of a strange impending danger. Shrouded with an evil aura, Momoshiki and Kinshiki appear and attempt to assassinate Naruto. Petrified, Boruto is shielded by Naruto, only to disappear in front of Boruto's own eyes!
A new trailer for Boruto: Naruto the Movie can be found below with English subtitles paired with the original Japanese dialogue. So far the company has announced that the movie will be making its big-screen debut in over 80 cities nationwide and you can check out the entire list of movie theater locations below:
| | | |
| --- | --- | --- |
| State | City | Theater |
| AZ | Tempe | Harkins Theatres – Valley Art |
| CA | Bakersfield | Valley Plaza 16 |
| CA | Los Angeles | Downtown Independent |
| CA | Murrieta | Cal Oaks17 |
| CA | Rohnert Park | Rohnert Park 16 |
| CA | Sacramento | Tower Theater |
| CA | San Diego | Camel Mountain 12 |
| CA | San Diego | Gaslamp 15 |
| CA | San Francisco | New People |
| CO | Denver | Sie FilmCenter |
| CO | Littleton | Alamo Drafthouse Cinema Littleton |
| DC | Washington | Angelika Pop-Up |
| DC | Washington | Mosaic Theater Company |
| HI | Honolulu | Ward Stadium 16 |
| IA | Cedar Rapids | Cedar Rapids Galaxy 16 Cine |
| IL | Bloomington | Bloomington Galaxy 14 Cinema |
| IL | Chicago | Music Box |
| IL | O'Fallon | O'Fallon 15 Cine |
| MI | Bloomfield | The Maple Theater |
| MI | Kalamazoo | Alamo Drafthouse Cinema Kalamazoo |
| MN | Rochester | Rochester Galaxy 14 |
| MO | Cape Girardeau | Cape West 14 Cine |
| MO | Chesterfield | Chesterfield Galaxy 14 Cine |
| MO | Kansas City | Alamo Drafthouse Main Street |
| MO | Springfield | Campbell 16 Cine |
| MO | St Peters | Mid Rivers 14 Cine |
| MO | St. Louis | Ronnies 20 Cine |
| MO | St. Charles | St. Charles Stadium 18 Cine |
| NJ | Manville | Manville 12 Plex |
| NM | Albuquerque | The Guild Cinema |
| NY | Douglaston | Movie World Cinemas |
| NY | New York | Village East Cinema |
| NY | Yonkers | Alamo Drafthouse Cinema Yonkers |
| OH | Cleveland | Cleveland Cinemas – Cedar Lee |
| OH | Columbus | Gateway Film Center |
| OK | Broken Arrow | Warren Theatre |
| OR | Portland | Hollywood Theater |
| PA | Pittsburgh | Hollywood Theater |
| TN | Memphis | Malco Theaters |
| TX | Austin | Alamo Drafthouse Cinema Ritz |
| TX | Dallas | Angelika Film Center & Café – Dallas |
| TX | Dallas | Angelica Plano |
| TX | Houston | Alamo Drafthouse Mason Park |
| TX | Katy | Alamo Drafthouse Cinema Mason Park |
| TX | Lubbock | Alamo Drafthouse Cinema Lubbock |
| TX | San Antonio | Alamo Drafthouse Cinema Westlakes |
| UT | Sandy | Megaplex Theatres – Jordan Commons |
| VA | Fairfax | Angelika Film Center & Café – Mosaic |
| VA | Ashburn | Alamo Drafthouse Cinema One Loudoun |
| VA | Winchester | Alamo Drafthouse Cinema Winchester |
| WA | Seattle | Grand Illusion |