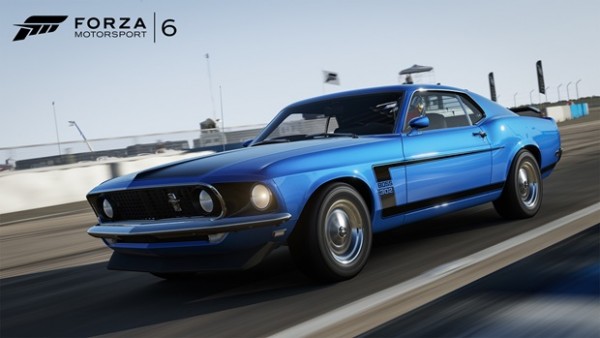 Gamescom 2015 is in two weeks and Windows 10 will be out in a few days, so Microsoft has released their gamescom 2015 plans, some updates for upcoming games, and more information on Xbox integration for Xbox One and Windows 10.
---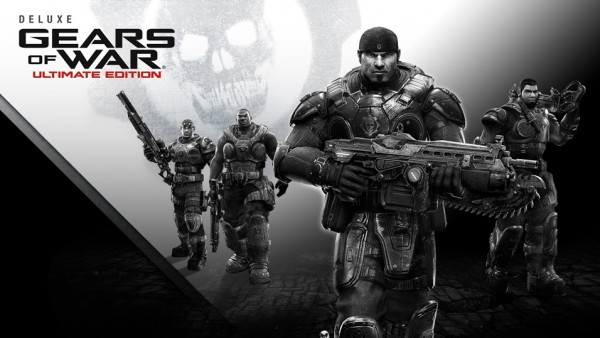 Gears of War: Ultimate Edition Goes Gold, Digital Pre-download Now Available
Gears of War: Ultimate Edition has gone gold for Xbox One, with the build sent out to be pressed onto disks. Those who prefer to download their games can begin pre-loading their copy.
There are two editions available, the $49.95 AUD Standard Edition and the $89.95 AUD Deluxe Edition. Pre-ordering either versions will net buyers the Adam Fenix and Civilian Anya multiplayer skins along with an Animated Imulsion Weapon skin for multiplayer. The Deluxe Edition also comes with a Deluxe Weapon Skin Pack that comes with 10 animated weapon skins, 36 standard weapon skins, and two extra multiplayer skins.
As part of the announcement, The Coalition and Microsoft have release new videos for Gears of War: Ultimate Edition. The first is the new opening cinematic video that covers Emergence Day. The second is a series of videos that go behind the scenes on the development of the game.
---
Xbox at gamescom 2015: Everything You Need to Know
There will be three major events held by Microsoft at gamescom 2015. Microsoft has released the following schedule:
The Xbox gamescom 2015 Briefing starts on

Tuesday, August 5 at 12:00 a.m. AEST

and you can stream it live on Xbox One, Xbox.com, Xbox 360, and your Windows Phone. You can download the Xbox Live Events Player app today on the consoles and Windows Phone so you're ready to roll on

August 5

.

We'll have special guest stars and industry elites on the Xbox Daily: LIVE @ gamescom show, which covers everything Xbox happening at gamescom – breaking news, exclusive announcements, trailer reveals, game demos, and interviews with game creators. The show will air

on Thursday

and

Friday

–

August 6 and 7

– beginning at 2 a.m. AEST You can stream them live on Xbox One and Xbox 360 consoles, or on your desktop or mobile device via Xbox.com.

On

Friday, August 7

, the "Halo 5: Guardians" Invitational by ESL invites fans to receive an exclusive first look at high-stakes Arena gameplay, pitting four top teams against one another in heart-pounding 4v4 combat.
---
Face the Rolling Hills of Lime Rock Park with Ford's Finest in the Forza Garage
This week brings a fresh new set of cars that will be part of Forza Motorsport 6's garage. This week's theme focuses on one of the oldest car companies in the world, Ford. The lineup is also augmented with the Lime Rock Park reveal. This legendary track is found in the hills of New England, where racers have been tearing up 1.5 miles of track that has challenged some of the finest drivers that ever lived since 1957.
The following list of vehicles will be joining the garage:
1978 Ford Mustang II King Cobra
1966 Ford Country Squire
1985 Ford RS200 Evolution
1966 Ford GT40 Mk II
1966 Ford Lotus Cortina
1973 Ford Capri RS3100
1981 Ford Fiesta XR2
2007 Ford Shelby GT500
2000 Ford SVT Cobra R
1992 Ford Escort RS Cosworth
1993 Ford SVT Cobra R
1987 Ford Sierra Cosworth RS500
1965 Ford Mustang GT Coupe
1940 Ford De Luxe Coupe
2003 Ford Focus RS
1956 Ford F-100
1975 Ford Bronco
2011 Ford F-150 SVT Raptor
2011 Ford Transit SuperSportVan
1997 Mazda RX-7
1955 Mercedes-Benz 300 SLR
2008 Mitsubishi Lancer Evolution X GSR
1997 Honda Civic Type R
1997 Nissan Skyline GT-R V-Spec
2002 Lotus Esprit V8
2011 Peugeot 308 GTI
2004 Maserati MC12
1981 Volkswagen Scirocco S
2014 Alfa Romeo 4C
2011 Radical SR8 RX
2008 Lamborghini Reventon
2013 Donkervoort D8 GTO
2013 Vauxhall Astra 1.6 Tech Line Top Gear Edition
2014 Chevrolet Super Sport
2013 Dodge Ram Runner
1968 Oldsmobile Hurst/Olds 442
2011 BMW X5 M
1969 Ferrari Dino 246 GT
1995 Mitsubishi Eclipse GSX
---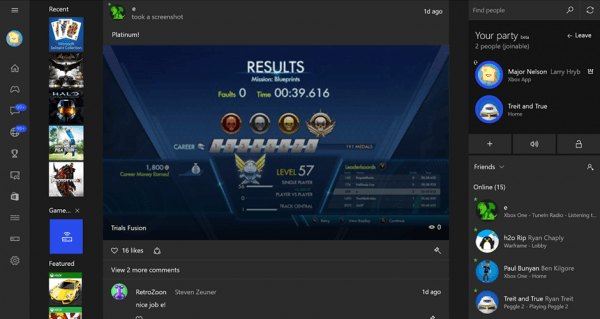 New Xbox Features on Xbox One and Windows 10
Thanks to Microsoft's free upgrade offer for owners of Windows 7 and 8, Windows 10 will be rolling out to millions of computers in the coming days. Microsoft has announced that the following Xbox functions will be available on Windows 10 at launch.
Game Streaming from Xbox One will allow Xbox One owners to stream their games to their Windows 10 PC or tablet. The connection can be made via the Xbox app on Windows 10 and will require a wired Xbox 360 or Xbox One controller connected to your Windows 10 Device.
The Windows 10 Xbox App will bring a full set of features that will be familiar to Xbox users. Traditional features like My Games, Xbox avatars, and player profiles will be available. Gamers will also be able to start party chats with Xbox gamers on both Xbox One and Windows 10. The Xbox app will also be able to record gameplay footage and take screenshots that can be uploaded onto Xbox Live.