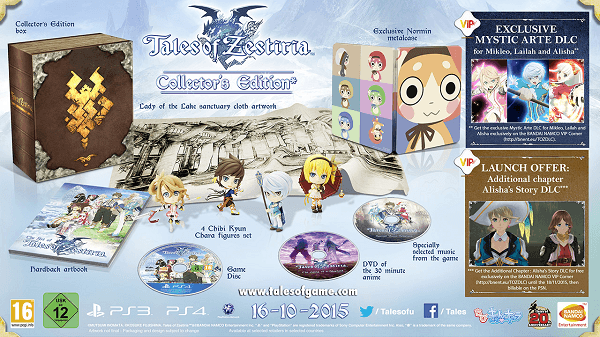 Bandai Namco has announced that European gamers will have a chance to pick up a collector's edition of Tales of Zestiria. While all standard copies of the game at launch will include the "Exclusive Mystic Arte DLC for Mikleo, Lailah, and Alisha," and the "Additional chapter: Alisha's Story DLC" will be free until November 18th when the game is released on October 16th, the collector's edition will include quite a number of goodies.
Those who buy the limited edition will of course get a copy of the game and the following bonuses:
4 Chibi Kyun Chara figures
Lady of the Lake sanctuary cloth artwork
Hardback artbook
30 minute anime DVD
Selected soundtrack from the game
Exclusive Normin metalcase
Collector's Edition box
Currently Tales of Zestiria is set to be released in Europe on October 16th while the title will be released in North America on October 20th though at the moment no limited edition release has been confirmed for North America.