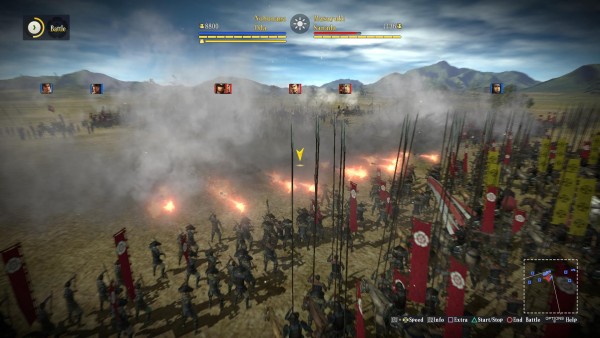 Today Koei Tecmo has released a slew of new screenshots, a handful of new gameplay clips, and new battle details for Nobunaga's Ambition: Sphere of Influence which is set to be released on the PlayStation 4, PlayStation 3, and PC on September 1st in North America and September 4th in Europe.
Most of these gameplay clips show off the various strategies that players can use during large scale battles in Nobunaga's Ambition: Sphere of Influence as well as a combined strategy. As for the actual battles, players will be spending quite a bit of time in combat since it is not necessary for players to declare war to strengthen their position, enemy lords may attack castles, towns, and settlements to increase their area of influence and grow their wealth. Defeating enemy fiefs can also strengthen the overall standing of the player's chosen clan, so growing a strong, well-equipped and well-trained, loyal army is key to successfully completing the game.
Players can enter the battlefield with one or multiple army regiments, call on banner-men, allies and subordinates, and strategically use the terrain to the advantage of their clan. Battles are resolved in multiple ways, including a remote, birds-eye view of the map where there is free control of individual armies or combinations of allied forces, and a close-up view option that offers more control of individual units.
Simultaneous Operation Gameplay
Multi-Faceted Strategies Gameplay #1
Multi-Faceted Strategies Gameplay #2
Multi-Faceted Strategies Gameplay #3