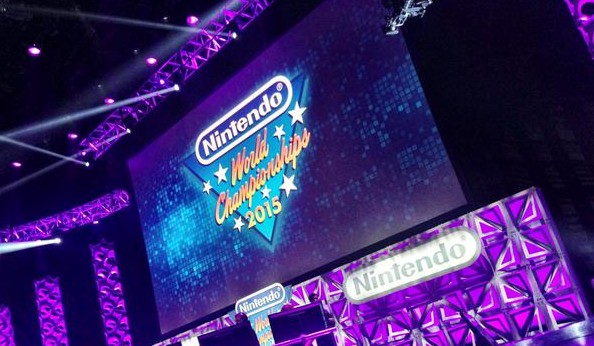 Ahh Nintendo, this is why we love you. The Nintendo World Championships 2015 kicked off Nintendo's E3 campaign in a huge way, drawing in a nice live crowd and nearly 120,000 viewers on YouTube. An eight round celebration of new games and old games alike with gaming celebrities, the spirit of competition and even some fantastic surprise announcements such as the release of the first translated Mother game as Earthbound Beginnings that is available from today on the Wii U e-Shop.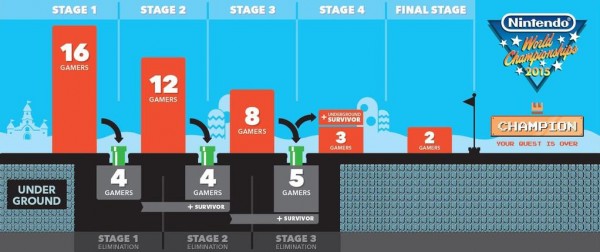 16 competitors took the stage in 8 rounds with each game being unannounced until it was time to actually play. Players progressed through the tournament using the above format. Of the 16 competitors, 8 were well known gamers from the community with the other 8 winning the right to compete by succeeding at various Best Buy competitions that took place across the United States. The 8 celebrity players were:
Sinister1 (speedrunner)
Cosmo (speedrunner)
TheMexicanRunner (NES completionist)
Bananas (speedrunner)
Essentia (speedrunner)
Trihex (speedrunner)
Jovenshire (Smosh Games)
Arin (Game Grumps).
djWHEAT, Andre (Black Nerd Comendy), and Justin Flynn commentated most of the tournament with a few special guests appearing for some games such as D1 for Super Smash Bros. Wii U or djWheat's nine year old son for Splatoon. Kevin Pereira hosted the evening. A job well done to all those commentating and hosting as everything felt insightful and informative. As a whole the event ran very smoothly.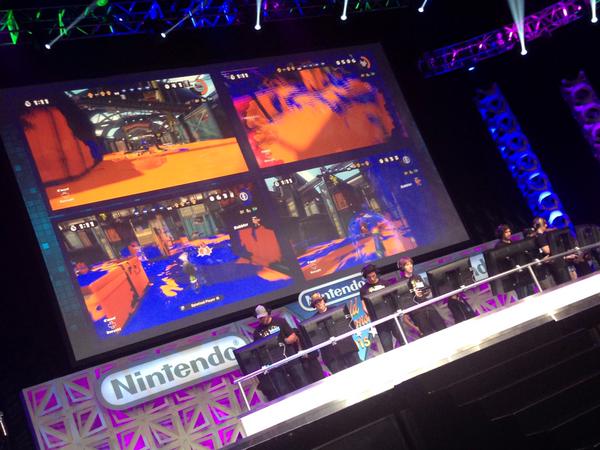 Now for the games which of course are the true stars of the show. The 8 games played and which round they were played in with winning conditions included:
Stage 1 – Splatoon (4 on 4 turf war, best of 3 format.  Winning teams advanced while the two losing teams played another match to see which four would be sent to the underground elimination rounds.)
Stage 1 Underground Elimination Round – The Legend of Zelda (Speed run to beat the Eagle temple in the quickest time, defeat Aquamentus the Dragon and retrieve the Tri Force.)
Stage 2 – Blast Ball – (First to 3 or whoever was leading at the end of 5 minutes). Blast Ball in an entirely new game for the 3DS where players in mech suits essentially get on teams of 3 and try to get a big ball into their teams goal. It's essentially space soccer in mechs but it looks really fun.
Stage 2 Underground Elimination Round – Super Metroid – (Speed run to see who can defeat Mother Brain and escape Planet Zebes on Samus's ship first).
Stage 3 – Mario Kart 8 – (Two separate rounds with four racers each. 3 track custom cup at 200CC with Baby Park, Animal Crossing and Big Blue tracks. Top two from each group go through.)
Stage 3 Underground Elimination Round – Balloon Fight (Highest score after 3 minutes wins and returns to main draw).
Stage 4 – Super Smash Bros. Wii U (Two rounds with all four remaining players in a 6 minute timed match free for all. Top two over both rounds advance into the final). People might remember Reggie laid down a challenge to last years Super Smash Bros. Invitational winner HungryBox that he would kick his ass next year after training for a year on Super Smash Bros. 3DS. Well that exhibition match happened and unfortunately Reggie got completely dominated. He did however get some revenge with an epic comeback after being slandered by HungryBox, saying

that he spends 16 hours a day running a company while HungryBox spent 16 hours a day playing smash. Burn! Reggie played as Ryu and HBox Jigglypuff for the record.

Stage 5 Grand Final – Super Mario Maker. It seems Mario Maker has been renamed Super Mario Maker and the guys over at the Nintendo Treehouse have put together four incredibly challenging Mario courses for the two finalists to navigate. Who ever was able to get the furthest in each of the first three courses gained a 15 second advantage for the fourth and final course.
After all was said and done, Best Buy Competition winner John Numbers took out the event after Cosmo struggled in the ridiculously difficult final course of Super Mario Maker, with John Numbers performing some incredible platforming feats with clutch wall jumps, ducks and impressively timed stomps. Both finalists received a signed New Nintendo 3DS XL from none other than special guests Shigeru Miyamoto himself and John Numbers got to hold up his shiny Nintendo World Championship 2015 trophy up high.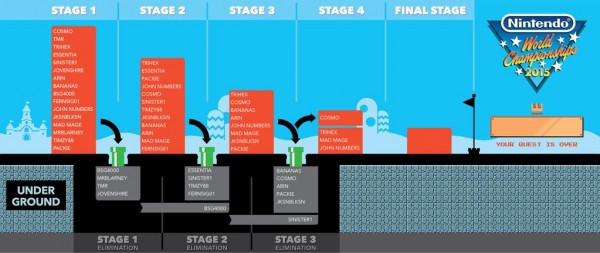 It was a great event full of announcements, nostalgia, high tension and victory and I for one am hoping the Nintendo World Championships makes a return next year. If you have a spare 4 hours the entire event is embedded below for your viewing pleasure or you can just skip to the good bits. I recommend watching the Grand Final at the least as those courses were truly horrific and pictured some truly epic platforming feats.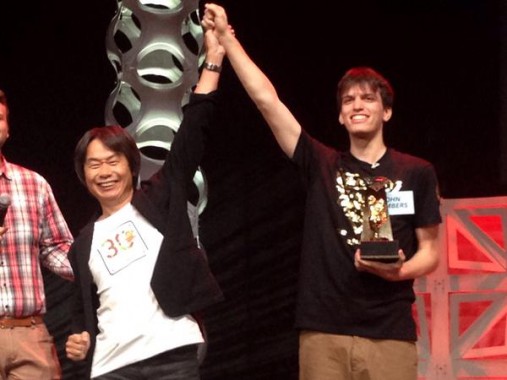 This was just the start of Nintendo's E3 campaign and you can expect plenty more E3 Nintendo coverage from us with their Nintendo Direct Digital Event happening Wednesday morning 02:00 AEST and the Nintendo Treehouse running on the floor show throughout E3.