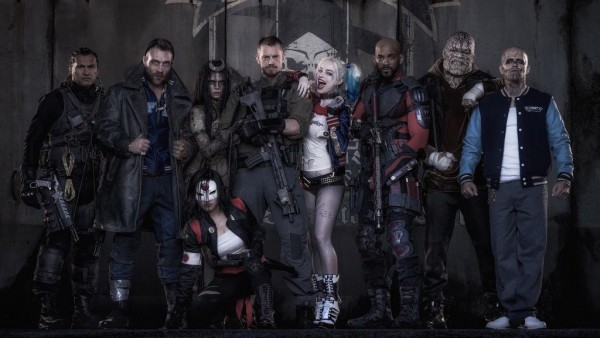 Suicide Squad director, David Ayer, has taken to Twitter to share a couple of images of most of the costumed cast from his upcoming Warner Bros./DC Comics antihero superhero flick.
Get ready… #SuicideSquad

— David Ayer (@DavidAyerMovies) May 3, 2015
Upon sending this first tweet, telling fans to get ready on Saturday evening, Ayer followed up with a cast photo on Sunday with much of the cast in character:
Task Force X assembled and ready. #SuicideSquad pic.twitter.com/fEV7E1aPsm

— David Ayer (@DavidAyerMovies) May 3, 2015
Since we already got to see Jared Leto's Joker last week, Ayer shared most of the rest of the main cast from Suicide Squad. From the left, the cast lines up as follows: Adam Beach as Slipknot, Jai Courtney as Boomerang, Cara Delevingne as Enchantress, Karen Fukuhara as Katana, Joel Kinnaman as Rick Flagg, Margot Robbie as Harley Quinn, Will Smith as Deadshot, Adewale Akinnuoye-Agbaje as Killer Croc, and Jay Hernandez as El Diablo.
Missing in action are Leto as Joker and Viola Davis as Amanda Waller as well as Ike Barinholtz and Common, of whom the characters they are playing are still a mystery.
Then, about an hour and a half later, Ayer shared a close-up of Will Smith's Deadshot in full costume:
Deadshot #SuicideSquad pic.twitter.com/HEF0jFeMsO

— David Ayer (@DavidAyerMovies) May 4, 2015
Suicide Squad will be released next year on August 5, 2016 as part of Warner Bros. and DC Comics' upcoming shared cinematic universe, begun by 2013's Man of Steel. It is written and directed by David Ayer (Training Day, End of Watch).
While I am hesitant of this film as one who grew up on DC Comics, despised Man of Steel, and thinks the sun has already set on Batman v Superman: Dawn of Justice, I think the cast for Suicide Squad is pretty spectacular and the costumes are looking pretty cool thus far. What do you think? As the first non-hero film in this universe, will this be DC's Guardians of the Galaxy?