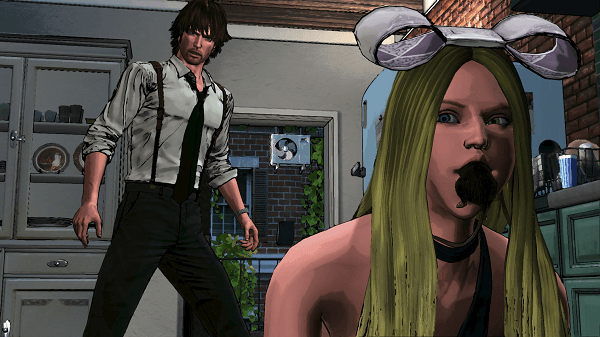 Recently Swery announced that D4: Dark Dreams Don't Die will be heading to the PC sometime in the future and today Access Games has updated the official website for the game with a list containing the various changes that have been made to the original game, most of which involve the removal of Kinect features that have now been replaced with mouse movements, as well as the minimum and recommended PC requirements.
The changes to the PC version are as follows:
Kinect control functionality has been removed. Instead, the entire game can be played using only the mouse.
Kinect gesture input controls have been removed and replaced with mouse commands.
Synchronous Kinect inputs have been changed to new mouse commands.
All Kinect Commands during Synchro Stunts (QTEs) have been removed. Instead, the QTEs can be played entirely using mouse controls.
All Xbox One DLC is now in-game content.
Along with the above changes, the user interface has also been redone.
All voice controls have been removed.
Synchro Stunt (QTE) grading has been revised.
Item parameters and locations have been revised.
Options unique to the PC version have been added.
The game now runs at 60fps.
Load times have been shortened.
Previously discovered bugs have been fixed.
Content unique to the Xbox One version has been removed.
The PC requirements for D4: Dark Dreams Don't Die are below:
Recommended Specifications:
OS: Windows 7 64-bit edition or Windows 8 64-bit edition
CPU: Intel Core i7 4770K @ 3.5GHz or AMD CPU or equivalent
Memory: 8GB RAM
Graphics Card: NVIDIA GeForce GTX 670 or AMD Radeon HD 7850 (VRAM 2GB)
Display: Supports 1920×1080 resolution
DirectX: DirectX 11
Hard Disk: Hard disk with 20GB of free space
Sound Card: DirectX 11 compatible sound card
Other: Keyboard and mouse required. Compatible with Xbox Controller using XInput
Minimum Specifications:
OS: Windows 7 64-bit edition or Windows 8 64-bit edition
CPU: Intel Core 2 Quad Q9550 @ 2.83GHz or AMD CPU or equivalent
Memory: 6GB RAM
Graphics Card: NVIDIA GeForce GTX 470 or AMD Radeon HD 6870 (VRAM 1GB)
Display: Supports 1280×720 resolution
DirectX: DirectX 11
Hard Disk: Hard disk with 10GB of free space
Sound Card: DirectX 11 compatible sound card
Other: Keyboard and mouse required. Compatible with Xbox Controller using XInput