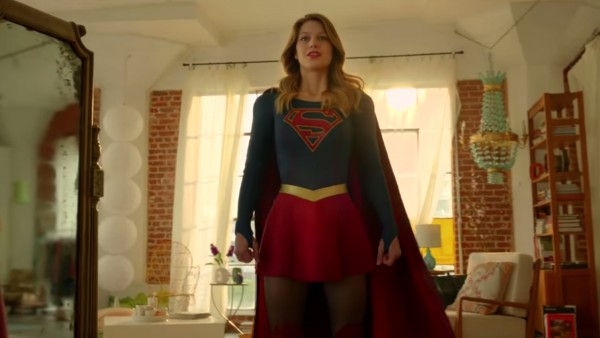 As someone who grew up a fan of DC Comics, I have really enjoyed The CW's Arrow and The Flash series from Greg Berlanti. But this upcoming season, Berlanti has a new superhero series coming to CBS starring Kara Zor-El, known to us as Supergirl.
Today, CBS released an extended trailer for the upcoming series. SPOILER WARNING: The trailer pretty much shares the plot of the entire pilot — including its ending — so don't watch if you have never seen a superhero film or television show and want to be surprised:
I am ecstatic to see Superman does in fact exist in this world. I was honestly worried that they would try and keep him non-existent in their TV universe. We are still unsure if CBS will let Kara exist in a shared universe along side Ollie and Barry in CW's Arrow and Flash, but we still have our fingers crossed. After all, CBS co-owns The CW alongside Warner Bros. and Berlanti is producing and showrunning all three series. Fingers crossed and all that. And it looks much better than whatever DC Comics is doing with their movies.
Supergirl stars Melissa Benoist as the titular character along with Mehcad Brooks as Jimmy Olsen, Calista Flockhart at Cat Grant, David Harewood as Hank Henshaw, and Chyler Leigh as Alex Danvers (Kara's foster sister). The series is developed by Greg Berlanti and Ali Adler (who also wrote the pilot together) along with Andrew Kreisberg. I'm also quite excited to see Calista Flockhart back on TV playing a strong character like Cat Grant. It was also announced that Dean Cain — who portray Superman in the '90s television series, Lois & Clark: The New Adventures of Superman — and Helen Slater — who played the titular role in 1984's Supergirl film — will appear in the series as undisclosed characters.
Supergirl will air Mondays at 8pm on CBS beginning this November. I guess I might actually have a reason to watch CBS next season.