It has been a long time since a WWE game got a PC release, but 2K Games have delivered on that front and are bringing WWE 2K15 to the platform. Launching today, the release will of course include the launch product as well as the DLC in a bundled price of sorts. Yes, it is a decent deal as a whole.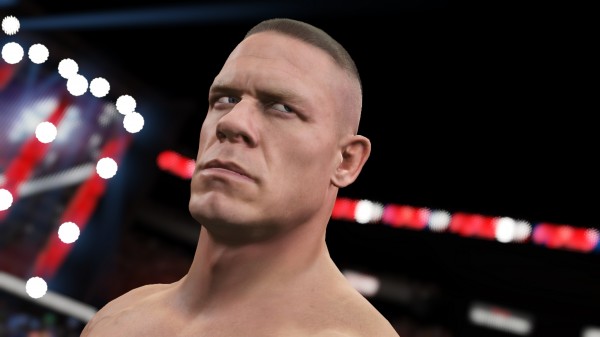 The main game will not change at all aside from the usual, so take a look at the DLC that will also launch this fall for the main product that you can get for free if you take the plunge. Keep in mind Hogan and Sting are readily available:
WCW Pack

Playable WCW Superstars: Bam Bam Bigelow, Diamond Dallas Page, Fit Finlay, Lord Steven Regal and Lex Luger;

NXT® ArRIVAL Pack

Playable Former WWE Champion, NXT General Manager and Monday Night Raw announcer: JBL®;
Playable NXT Superstars: Adam Rose™ and The Ascension™ (Konnor™ and Viktor™);
Playable NXT Diva: Emma™;

New Moves Pack

More than 30 new moves, including an alternate version of Sister Abigail (made popular by Bray Wyatt™), the Gutwrench Suplex (made popular by Cesaro™), Rack Attack (made popular by Nikki Bella™) and Running Knee Smash (made popular by Brie Bella™), as well as the Uso Crazy and Spinning Powerbomb (made popular by Jimmy Uso® and Jey Uso®);

Accelerator

Instant access to all unlockable content available in the game;

2K Showcase: One More Match

Story focused on the rivalry between WWE Superstars Randy Orton® and Christian® in 2011;
Playable WWE Superstars (2011 versions): Christian, Randy Orton, Edge®, Mark Henry® and Sheamus®;
Playable arenas from 2011: SmackDown®, Extreme Rules®, Over the Limit® and Capitol Punishment™;

2K Showcase: Hall of Pain

Playable WWE Superstars (2011 versions): Mark Henry, Big Show®, Kane®, Jey Uso, Jimmy Uso, Sheamus, The Great Khali®, Randy Orton, Daniel Bryan® and Ryback®;
Playable arenas: SmackDown (2011), Vengeance® (2011) and WrestleMania® 29;

2K Showcase: Path of the Warrior

Story focused on the career of WWE Hall of Famer Ultimate Warrior;
Playable WWE Hall of Famers: Ultimate Warrior (1989-1996), Hulk Hogan (1990), Andre the Giant (1988), Sgt. Slaughter (1991) and "Macho Man" Randy Savage (1991);
Playable WWE Legends: Honky Tonk Man (1988), Rick Rude (1990) and Colonel Mustafa (1991);
Playable WWE Superstars: Undertaker (1991) and Hunter Hearst Helmsley (1996);
Access to WWE Hall of Fame ring announcer Howard Finkel and WWE managers Jimmy Hart, Bobby Heenan, Paul Bearer, Sherri, Sid Justice and General Adnan;
Playable arenas: WrestleMania VI, VII and XII; SummerSlam (1988, 1990 and 1991); Saturday Night's Main Event® XXIV and Madison Square Garden.
Check out the trailer down below and get ready for WWE 2K15's release which you should be able to download as of today.