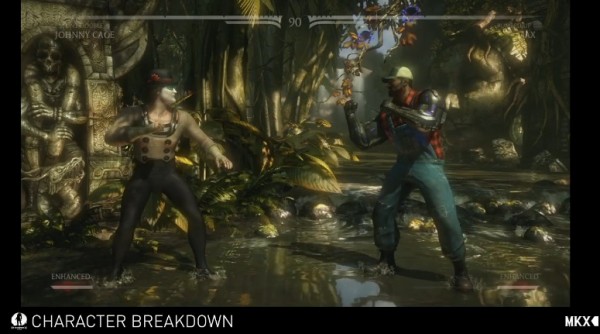 This past week's 'Kombat Kast' (you can watch the 'Kombat Kast' in its entirety, embedded below) revealed two exclusive skins made available to players who download and play the mobile edition of Mortal Kombat X, and sign-in with WB Play in order to gain access to said skins on console. Just like with Injustice: Gods Among Us, NetherRealm has other special skins for us to unlock, cross-platform, should we choose to play the mobile edition of Mortal Kombat X. It's free, and c'mon, 'Ninja Mime' Johnny Cage and 'Farmer' Jax should be enough incentive!
Other than that announcement, we know what to expect from Mortal Kombat X mobile: it's a card battle game just like the studio's past offerings, although Fatalities will be featured, with touch-screen gestures integrated to make them more interactive. Now, before moving on to the gameplay breakdowns for Sonya and Kenshi, the usual 'Kombat Kast' hosts, designer Derek Kirtzic and community specialist Tyler Landsdown, also broke down a new Stage called the Sky Temple. Featuring the best lighting and environmental effects, Raiden's place of worship seems to be in the midst of a gigantic storm. You can leap off a gong on the right side, throw a ceremonial fire pit and flammable, hanging lantern, and finally, toss a monk at your opponent ala Blanche in the Outworld Marketplace level, at which point a lightning strike will hit and scare the others into a state of fervorous begging and prayer. They're just hoping for FRIENDSHIP Lord Raiden!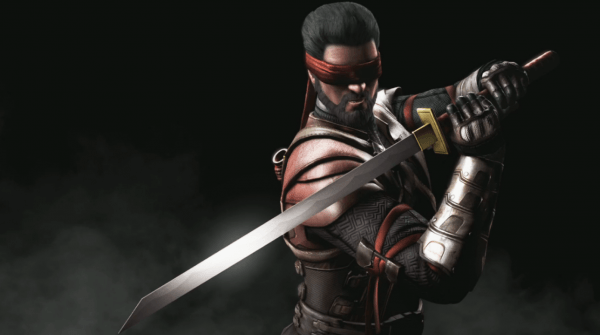 Onto the character gameplay…blind swordsman Kenshi is back and deadlier than before. Kenshi seems to be a great character for beginners to pick up, because his main specials don't differ too much across all three variations. In Balanced, Kenshi gains the ability to project spectral versions of his common special attacks that give him more range, along with a projectile reflect. His second Variation, Possessed, sees Kenshi summon a demon from his now cracked and corrupted Sento sword to do his dirty work. Again, his specials are altered here, with the demon adding a hit here and there, and also changing the positioning of the opponent for different mix-ups and combo possibilities. Finally, Kenjutsu grants the telekinetic abilities that also define the character, including the TK Push, Slam and Toss, which throws the enemy over you to the other, perhaps if you'd like to back them into a corner.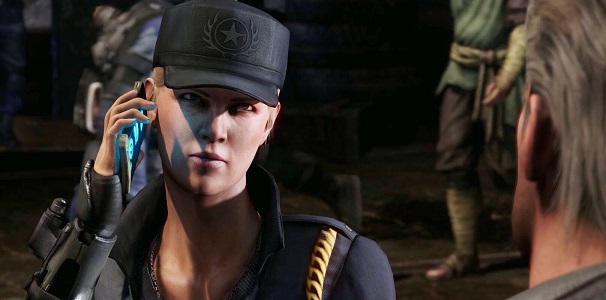 Now Sonya's variations, on the other hand, drastically change her play-style. Covert Ops focuses on parries and timing, adding garrote parries and military stance, from which you can pull off multiple added attacks, much like Erron Black's 'Gunslinger' stance. If you pick the Demolition variation, Sonya will have three grenades at her disposal. They can be set to frag or stun. If she needs them replenished, she can call upon a Special Forces drone and reload, so to speak. Speaking of, her last variation is named Special Forces, and allows her to use said drone as an actual offensive tool. The player may shoot a homing blast, a low shot, mid-air level shot or order it the drone to go kamikaze on the opponent for even bigger damage. The drone has a timer on how long it can stay in play, and the player can even park it to set up traps, or play on the mind of the opponent, potentially affecting their game. Check it all out in motion below.
Mortal Kombat X is only days away from release for the Xbox One, PlayStation 4 and PC. If you haven't pre-ordered already…what are you waiting for?!