Madman Entertainment has announced several new anime license acquisitions for Australia. All of the following titles will be streamed on AnimeLab with a home video release to follow at a later date.
From animation studio Doga Kobo (Yuruyuri) comes Mikagura School Suite. Madman describes it as follows:
Like most awkward teens, formerly reclusive gamer Eruna Ichinomiya struggles to find her place at Mikagura High School. But her experience is far from ordinary, as the mischief-making members of the school's manga, calligraphy, drama, and other cultural clubs vie for total school domination in a rather extreme way—ULTIMATE ATTACKS.
From animation studio Bones, known for producing many popular series such as Space Dandy, comes Blood Blockade Battlefront. Madman provided a synopsis of the series:
When a breach between Earth and the netherworlds opened up over New York, its citizens were trapped along with creatures from other dimensions under an impenetrable bubble. They've lived together now for years, in a world of crazy crime and sci-fi sensibilities. But someone is threatening to sever the bubble, and a group of stylish superhumans have formed to keep this from happening.
From animation studio Xebec, known for harem series such as Haiyore! Nyaruko-san, comes Triage X:
Mochizuki General Hospital boasts some of the most well-trained (and well-endowed) nurses in town. Although these ladies spend much of their day battling sickness, their after-hours are spent fighting a very different sort of disease… Under the leadership of the hospital chairman, a handful of staff members and local teenagers form a group of mercenary assassins, targeting the 'cancers' of society and excising those individuals before their wickedness spreads.
From animation studio Satelight, known for sci-fi works such as Bodacious Space Pirates, comes The Disappearance of Nagato Yuki-chan, adapted from Puyo's manga series which is a spin-off of the 'Disappearance arc' of the popular series The Melancholy of Haruhi Suzumiya. Madman gave a synopsis for this series:
In an alternate universe, shy and awkward Yuki Nagato attempts to court her crush, Kyon, with the help of her best friend and neighbour, the perky and indomitable Ryoko Asakura. Together, the trio defend their high school literature club from extermination… and themselves from the pestering of their over-the-top classmates Tsuruya and her friend and minion Mikuru.
From animation studio TNK comes High School DxD BorN, the third season in the popular harem series High School DxD. Madman describes the season:
The babes and boys of the Occult Research Club are back! Lovable loser (and bust buff) Issei and his clan of bewitching beauties return for a new season of supernatural tussles and sexy shenanigans – featuring old friends and new enemies.

Now that all the girls live in Issei's home, life seems like nothing but fun and scantily-clad lounging… for now.

Join Rias, Akeno, Koneko, Asia, Xenovia, Gasper, and everyone's favourite Harem King, Issei, as they fight, fumble, and fondle their way through their demonic high school lives.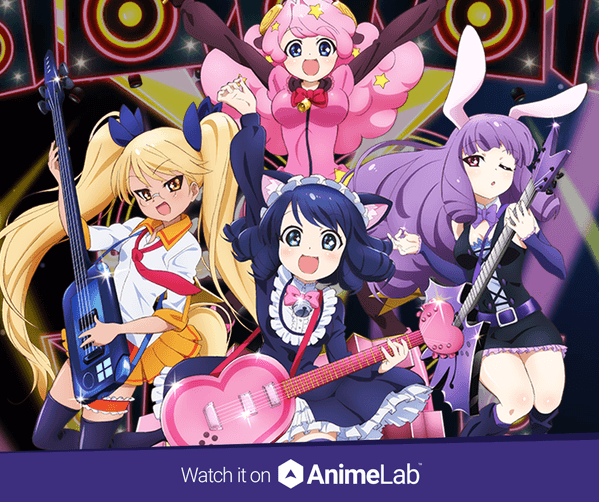 Show by Rock, another series produced by Bones, has also been licensed. It is described as follows:
Set in the glamorous metropolis Tokyo Midi City, where music and the dream of superstardom is everything. Here, the 'battle of the bands' is more than just a bit of teen rivalry, where dozens of ensembles compete for the honour of playing atop the city's highest tower.

When a Gothic Lolita-clad 'catgirl' cutie named Cyan stumbles into the music world, she too is swept up by the dream of fame. After joining forces with three other colourful characters – 'bunnygirl' honour student Chuchu, shy 'doggirl' Retoree, and adorable 'sheepgirl' Moa—the quartet becomes Plasmagica, the freshest band on the scene. Armed with special instruments, the girls face off with other bands striving for stardom, like the cool and passionate Visual Kei band Shingan Crimsonz, and the handsome pop idols, Trichronika. Will the band find celebrity? Or are they doomed to be one-hit-wonders…
From animation studio Trigger, known for their original series Kill la Kill, comes Ninja Slayer. It is described as follows:
The dystopian cyber underworld of Neo-Saitama is ruled from the shadows by an intricate web of drugs, yakuza gangs, and evil syndicate ninjas wielding fearsome 'karate'. In a sea of the blood of his enemies, a lone maverick stands.

Ninja Slayer is a ninja who kills other ninjas in the name of ninja vengeance. A former salaryman whose family was killed by evil ninjas, Ninja Slayer cheats death and casts away his past to embrace the dark, mystical 'Ninja Soul', a mysterious spirit that grants him great power in his quest for revenge. But will this bloodthirsty spirit consume Ninja Slayer before his enemies are all "dead on departure"? Doumo. I'm Ninja Slayer.
From A-1 Pictures, a subsidiary of Aniplex known for such series as Nanana's Buried Treasure, comes Gunslinger Stratos. Madman provided a synopsis for the series:
A.D. 2115 – the island nation once called Japan is now known as the 17th Far East Imperial City Management District.

The citizens were promised a life of peace in exchange for some of the comfort they were used to having. People believed their lives would never change and tomorrow will be the same as today. No one suspected the impending doom which their society was about to face… 'Degradation'- a rare disease which led to the total disintegration of the human body to a mere pile of sand was slowly but surely spreading throughout the world.

Ordinary student, Tohru Kazasumi, becomes embroiled in a multi universal battle between his world and the parallel world of Frontier S (Stratos). This means that Toru must fight himself from an alternate world. Their futures collide as their paths cross. Will both worlds ever find peace?
From animation studio Shaft, known for their work on many series such as Arakawa Under the Bridge, comes the second season of Nisekoi. The first ten episodes of season one will be available on DVD in Australia on June 10, with the second half of the first season set for release on July 1. Madman describes the second season as follows: "Raku and the girls are back! The hunt for the key to his heart and locket continues in the second season of this fan favorite anime series".
Finally, from animation studio feel., comes My Teen Romantic Comedy SNAFU Too. Madman provided a synopsis for this series:
With his unique thought processes, Hikigaya Hachiman seemed to be glorifying the life of a loner until his guidance counsellor, Hiratsuka Shizuka, talked him into joining the Service Club. Together with the other members, the breathtaking, flawless Yukinoshita Yukino and the cute, popular Yuigahama Yui, he spent his days solving all kinds of problems for his classmates, from relationship worries to running the cultural festival committee. The seasons have given way to fall, and now Hachiman, Yukino, and Yui are preparing for a field trip to Kyoto. What request has been brought to the Service Club this time?