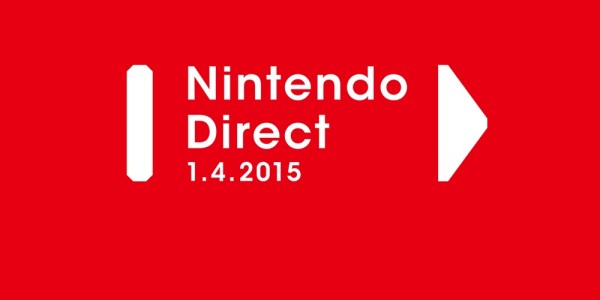 Wow! Nintendo just had a fantastic Nintendo Direct focusing on a heap of new DLC and new titles for both the Wii U and 3DS and it was one of the best Directs I've seen in a long time. You can (and should) watch the full video below to see everything in action but as it goes for about 50 minutes feel free to read our recap below detailing every highlight you might have missed. Please note all release dates and prices are for the Europe region, release dates should match but prices will differ.
Super Smash Bros Wii U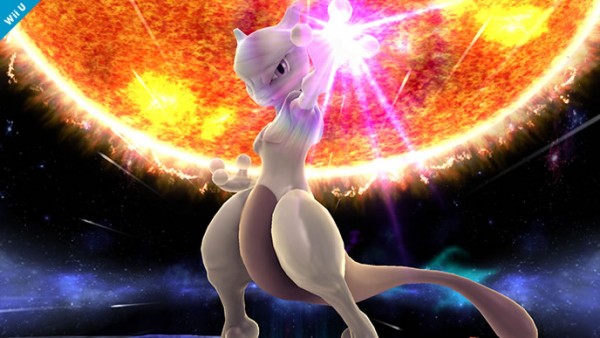 – Mewtwo has a new trailer, release date and price. He will be available for those that redeemed both the 3DS and Wii U Smash Bros. Club Nintendo codes on April 15th. Otherwise he will be available on April 28th and cost £3.59 if you buy Mewtwo for one console or £4.49 for both.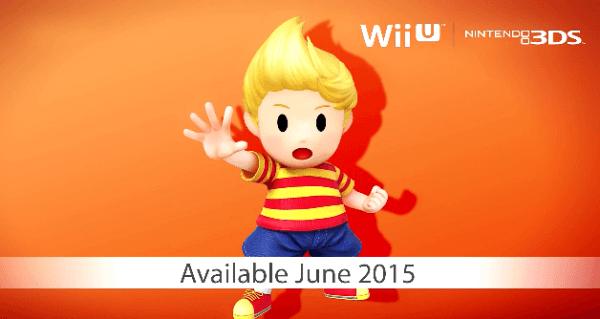 – Mewtwo won't be the only DLC though. That's right more is coming and the first character is none other than the cut from Brawl Lucas! Lucas will be available sometime in June.
– That's not all though. More DLC characters are planned and this time you get to vote for them. A special site has opened allowing players to request any character they wish. You can visit the site and have your say by clicking here.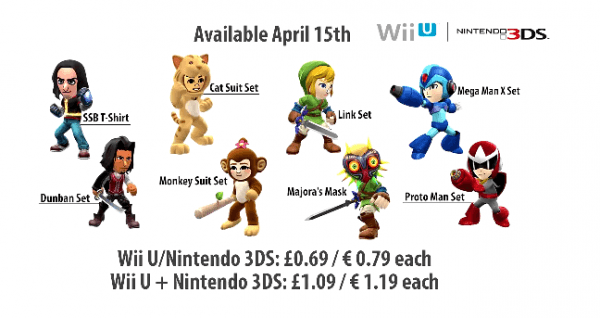 – New Mii fighter costumes are also coming out for your Mii. Some are brand new and some are based on classic franchises. The Direct showcases crossover costumes from Zelda, Mega Man and Xenoblade Chronicles. Costumes will be available April 15th and you can cross buy them for £1.09 each or for only one version for £0.69.
– Smash Bros will be receiving software update 1.0.6 which contains the ability to purchase future add on DLC, adjusts the games balance, adds ability to share screenshots, replays, Mii Fighters and custom stages on the Wii U version and has some other miscellaneous adjustments for more enjoyable gameplay.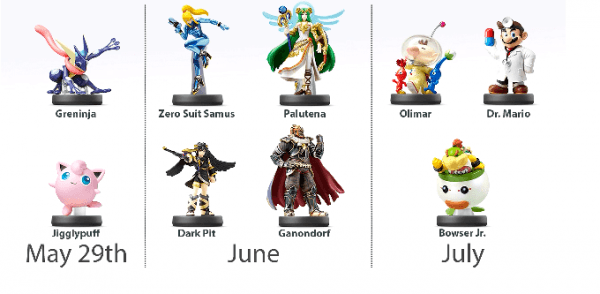 – The next wave of Smash Bros Amiibo are incoming. Greninja and Jigglypuff are coming May 29th.
– Zero Suit Samus, Ganondorf, Palutena and Dark Pit are coming in June.
– Olimar, Dr. Mario and Bowser Jr. are coming in July.
Amiibo Touch & Play Classics Highlights
– A free download from the e-Shop, users can tap their Amiibo to gain access to a random segment from a classic game such as Super Mario Bros. or The Legend of Zelda but heaps more are available. Games aren't tied to Amiibo so it it completely random.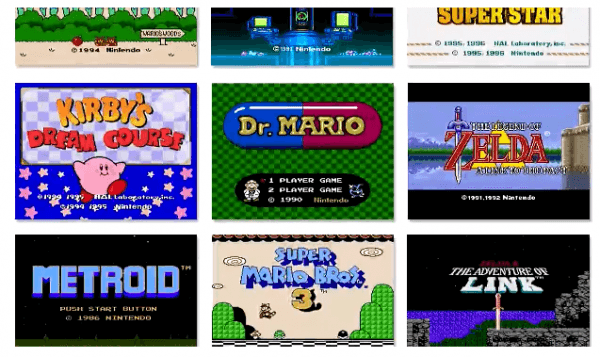 – You are limited to only 3 minutes of gameplay at a time but you can tap the Amiibo again to switch 'scenes' to go to a different level for example.
Mario Maker

– Mario Maker has a release date at last. Marked as a celebration of the 30th Anniversary of Mario, the game will release in September and seems like it will be receiving both a retail and downloadable release. Nintendo will be exploring fun ways to celebrate this landmark.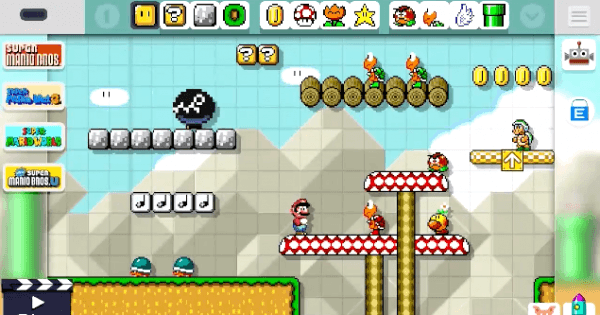 – As we knew the game has four different skins you can apply to your levels, from the original Super Mario Bros., Mario Bros. 3, Super Mario World and Super Mario Bros. Wii U. The UI seems to be incorporating some Mario Paint elements as well such as the Robot and Rocket Ship.
– Players can upload their levels and share them freely with the world so others can download them. It seems players can make their own worlds of four levels as well.
Yoshi's Wooly World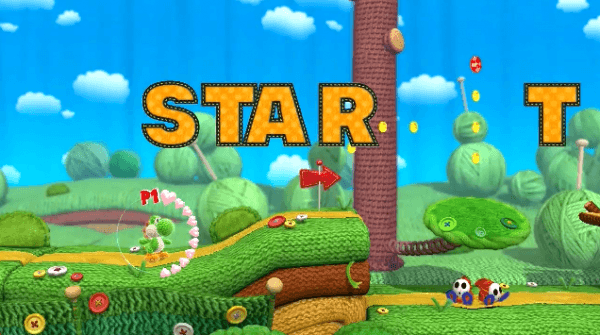 – Yoshi can still gobble up enemies and use eggs, similar to Yoshi Story (the game looks very similar).
– Apparently the game will be very challenging. Players can switch between classic mode and mellow mode at any time to make the game easier. In mellow mode, players control winged Yoshi which makes the game much easier.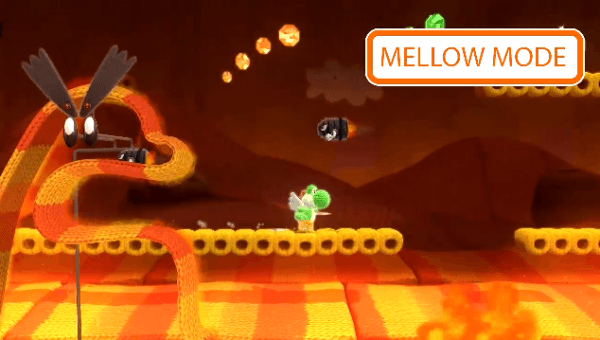 – Yarn Yoshi Amiibo are coming out! They come in three colours (green, pink and light blue) and are made of yarn! Scanning in the Amiibo in Yoshi's Wooly World will make another Yoshi appear in game which you can eat and use as an egg.
– The game is launching on June 26th and will come in a standalone pack and as a bundle with a Green Yoshi Woolen Amiibo.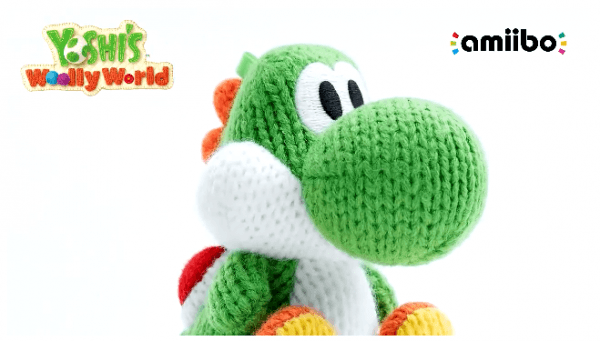 Splatoon

– A few more modes were announced in addition to story mode and local multiplayer. The first was ranked battle where players team up in 4 on 4 matches. One ranked mode is called Splat Zones where two teams battle for ownership of a certain stage area.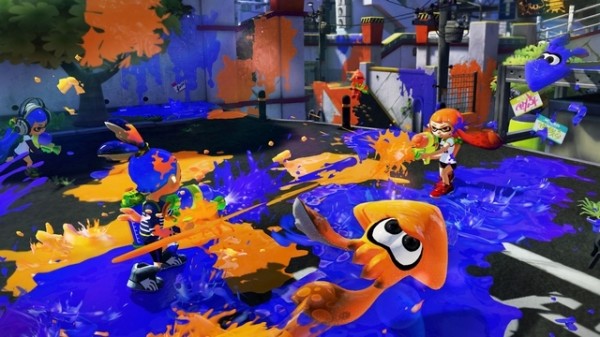 – Another mode is the Battle Dojo where players can enjoy local one on one vs. Players compete to see who can pop the most balloons on the stage with one player using the T.V. and one using the GamePad.
– Splatoon are also getting Amiibo. Both the main guy and girl Inkling character have their own Amiibo and an exclusive green squid Amiibo will be released, exclusively in a bundle with the game. Lord help us. The Amiibo grant access to exclusive missions, gears and weapons.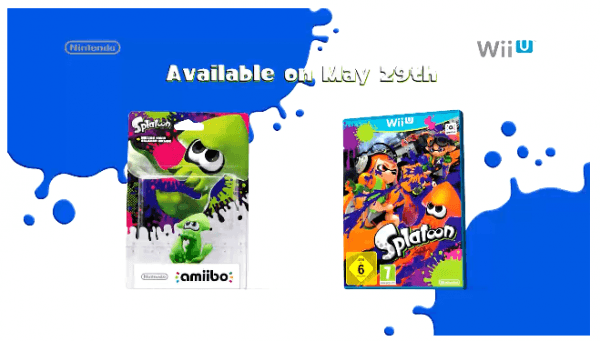 – Splatoon launches next month on May 29th.
Affordable Space Adventures

– A new title centered on space travel on a budget called Affordable Space Adventures.
– The game is a stealth/adventure game where the GamePad displays a cockpit of your first ship. Players explore planets on a 2D plane. Players can work alone or with 2 friends to control unique parts of the ship.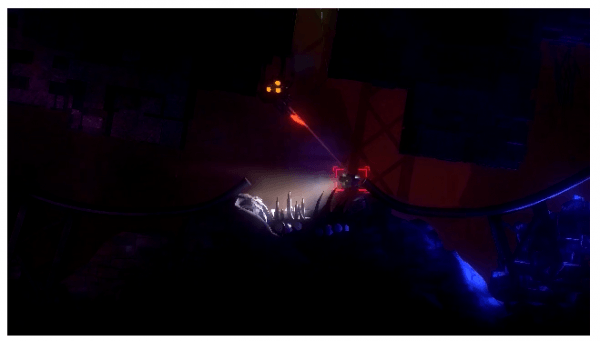 – The game will be available on April 9th exclusively as a downloadable title for the Wii U from the eShop.
Swords & Soldiers II

– A sequel to the award winning WiiWare game, player's build structures to overpower the enemy on a 2D battle ground.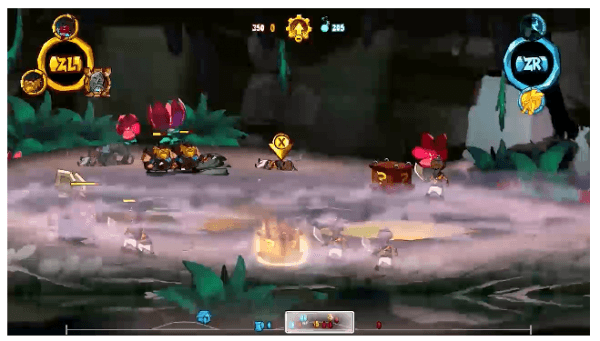 – There are two factions both with different strengths. Touch screen controls are used to use commands. The game will be available exclusively on Wii U on May 21st.
Wii U Virtual Console

– The Wii U is finally getting Nintendo 64 and Nintendo DS titles!
– The first DS titiles will be Mario Kart DS and WarioWare Touched!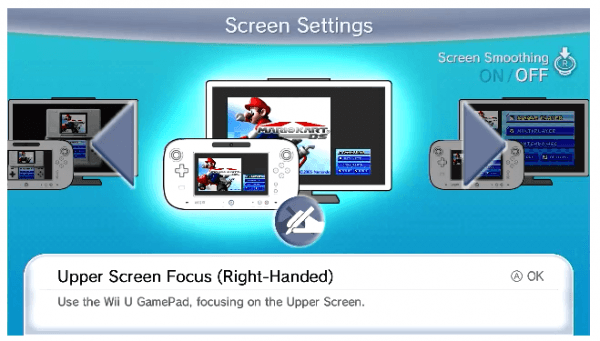 – DS games will have multiple ways to be displayed, including top screen on the T.V. and bottom screen on the GamePad, a picture of the original Nintendo DS on the screen with the two screens to display the original aspect ratio or the top screen taking up most of the T.V. with the bottom screen small or that scenario but flipped. There is also a screen smoothing option.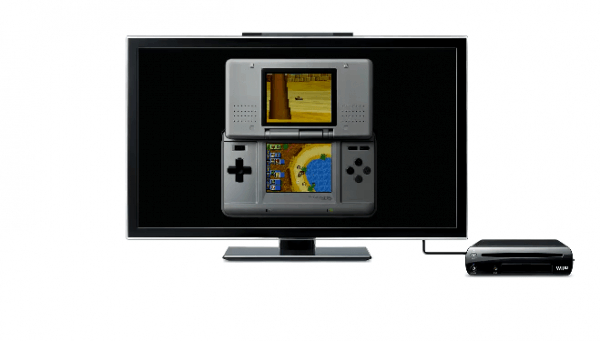 – The first Nintendo 64 titles will be Super Mario 64 and Donkey Kong 64.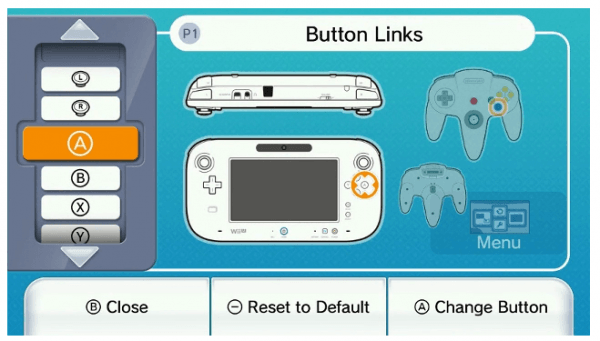 – Both 64 and DS titles will cost £8.99 each. If you buy three of the games mentioned here before April 16th you will get the other one free. The games should be available to download now.

– Players can upgrade their games from the Wii versions if they have transferred them over (Super Mario 64 for example) for £1.79.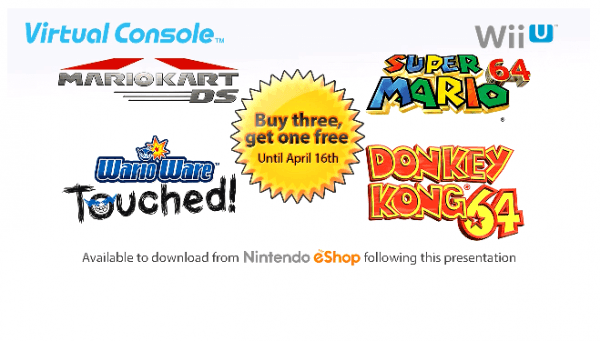 – Paper Mario and Yoshi's Island DS are the next titles coming to the Wii U Virtual Console in May.
– Three new Wii VC titles were also announced. Pandora's Tower on April 16th and Sin & Punishment Successor of the Skies on April 30th. Both games are £17.99 but will be available at 25% off for the first week after launch.
Shin Megami Tensei X Fire Emblem

–  Finally more news and a trailer on this title announced nearly 2 years ago from Atlus. The game looks very colourful and has a Persona vibe to it.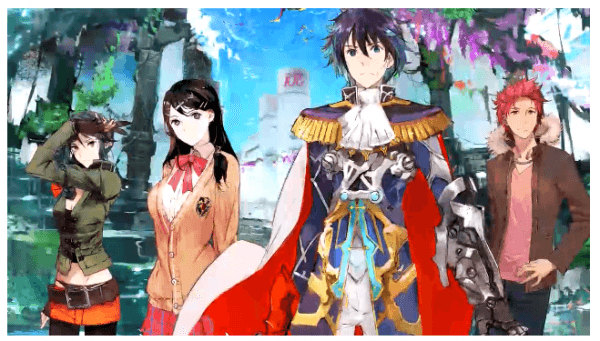 – Gameplay looks like a mix of open world and turn/action based battles but it is hard to tell from the trailer alone. No other information was shared.
Project Zero/Fatal Frame

–  The newest game in the Project Zero series for Wii U is being localized.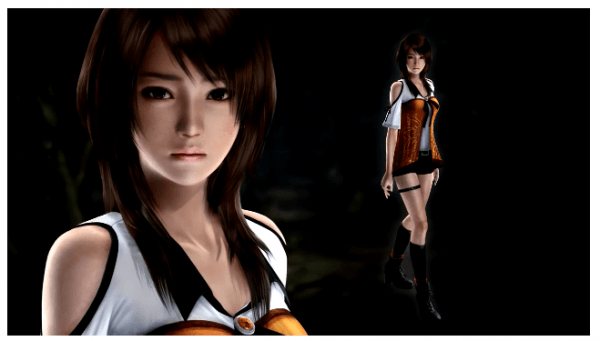 – The game has three main characters all with their own story. Players use the camera to scan the environment and battle spirits in quick bursts of action. The game looks pretty creepy.
Attack on Titan: Humanity in Chains

–  A new downloadable fast paced action title. for the 3DS. Players take the role of main characters from the show and take down Titans alone or in local or online 4 player co-op mode.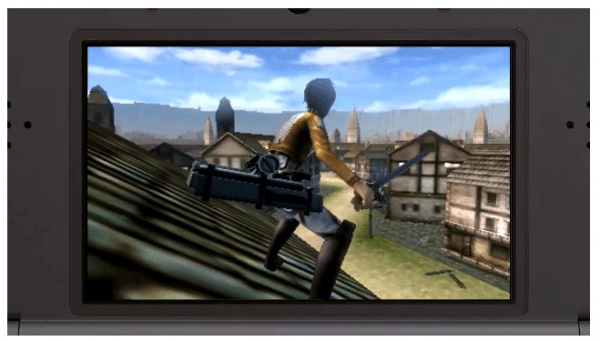 – The game supports the New 3DS c-stick for camera control.
– The game releases on May 2015 in the eShop. As a bonus, the first two episodes of the anime Attack on Titan are now available on the eShop.
Azure Striker: Gunvolt

– A fast paced action 2D side-scroller.
– The New 3DS will use the C-stick for easier weapon changing and will feature faster load times.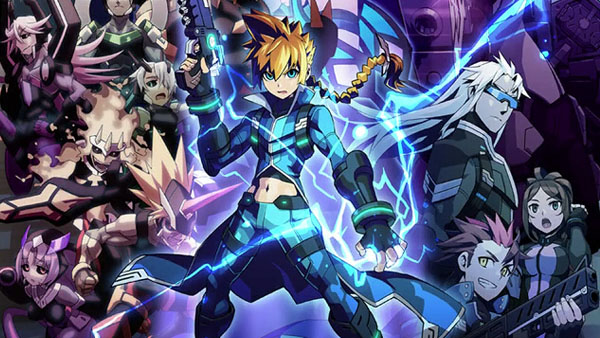 – The game comes out today on the eShop for 3DS and will come with Mighty Gunvolt (the original title) for free if you purchase Azure Striker Gunvolt before July 2nd.
– Three home menu themes centered around the two games are also being released today and are available for purchase from the theme shop.
Box Boy!

–  A slow 2D platformer/puzzle game by HAL Laboratory, the guys behind Kirby (and the character design shows that very much).
– Player's take control of Cubee, a box with legs. He can create boxes and jump. He creates boxes which can be arranged and pushed in different ways to make steps to reach new heights or cross over pits full of spikes.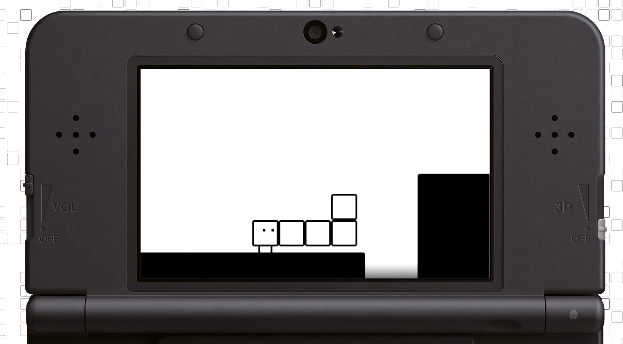 – You need to use boxes cleverly to progress. Stages are short but there are over 150 of them and each has a collectible on them from the looks of it.
– The game is available right now from the eShop on 3DS.
Pokemon Rumble World

–  The newest title in the Pokemon Rumble is called Pokemon Rumble World and will contain every single Pokemon ever released in the main series of games including some Mega Evolutions and the Primal Reversions.
– The game will be free to play with in-game purchases. There are many different areas you can get to by balloons which you buy with Poke Diamonds which you earn or, you guessed it, can buy with real money.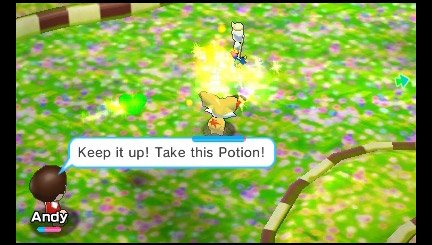 – Players use their in game Mii as their Pokemon Trainer.
– Pokemon Rumble World will be available next week on April 8th.
StreetPass Mii Plaza

–  Two new games are being added. StreetPass Fishing and StreetPass Zombies.
– StreetPass Fishing has players fishing for over 160 different species of fish (including Cheep-cheep) and legendary creatures. Players get bait from StreetPass members and each fish has a favourite bait.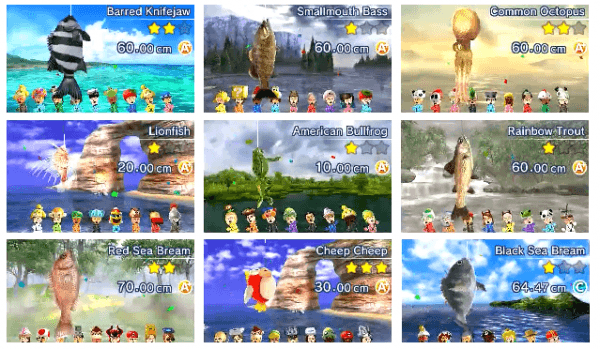 – StreetPass Zombies is an action game where you get one of 26 unique weapons based on the hobbies of StreetPass Members.
– StreetPass Mii Plaza Premium is also coming out which includes Mii Pass birthdays (where you try and find a Mii with each unique birthday of the year) and the VIP room for Mii's you choose.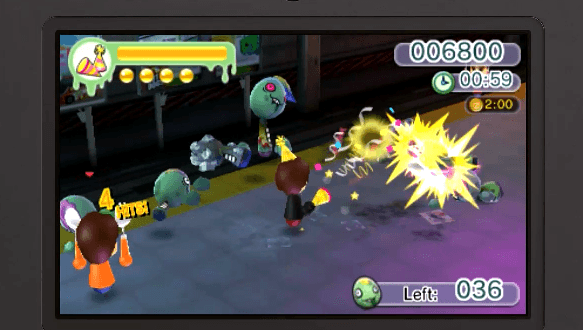 – The updates and games are coming out on April 16th. The games will be available as a bundle for £7.99 or £4.49 each. Mii Pass Premium will be £4.49.
– International Street Pass week will be arriving around that time and those that access a Nintendo Zone will be able to get a special Mii of Satoru Shibata.
Puzzle & Dragons Z/Puzzle & Dragons Super Mario Edition

–  As a new Dragon Tamer you must protect the world from a new evil. Players use monsters to defeat enemies in match three style battles. There are over 250 monsters to collect which hatch from eggs.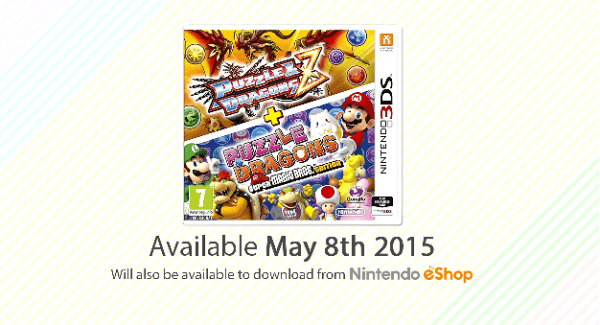 – Monsters can evolve by using chips collected from enemies and each has one of five elements which kind of work like Pokemon types.
– The game releases both at retail and on the eShop on May 8th. A demo for the Super Mario Bros. edition will be coming soon.
Code Name S.T.E.A.M

–  Two multiplayer modes are being detailed. Fast paced death match mode will limit players to 60 second turns.
– In A.B.E battle players use a giant Abraham Lincoln inspired Mech to fight for supremacy. Both modes feature local and online play.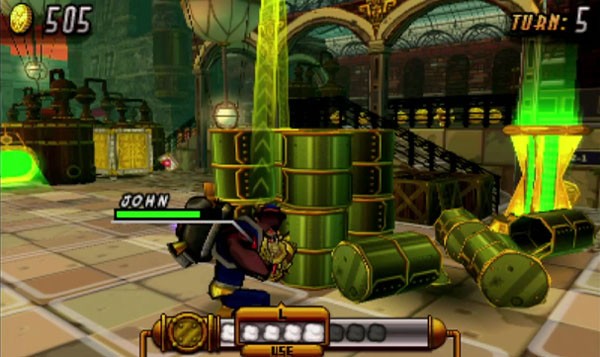 – Worldwide Tournaments are also incoming.
– The game will launch May 15th across Europe for the 3DS.
Fire Emblem (3DS title)

–  The ability to create a custom avatar is returning and this time your character is the center of the story.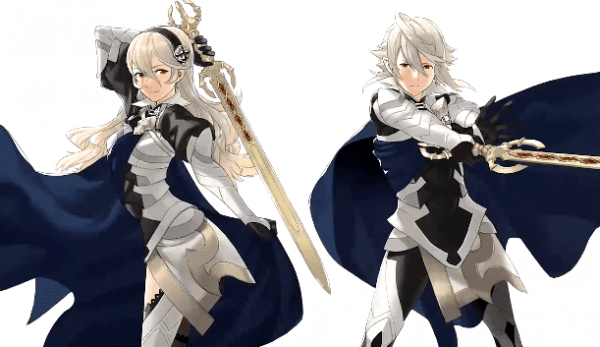 – It seems the game will have two split paths which will feature completely different stories and chapter missions. The two sides are the traditional, peace loving Hoshidan or the glory seeking Nohr family. Your choices seem to weigh very heavily in the game.
– The games aesthetics are very similar to Awakening. The game is expected to launch sometime in 2016 for the 3DS.
Animal Crossing Happy Home Designer

– Amiibo cards are coming out and the first game they will work with is Animal Crossing Happy Home Designer. The first three cards revealed are Isabelle, Peanut and Goose.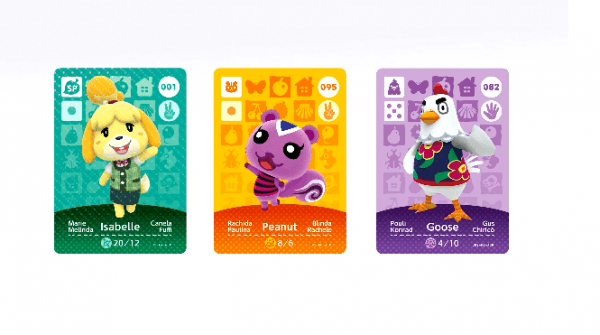 – You scan in the card and try to build that character a home based on their wants.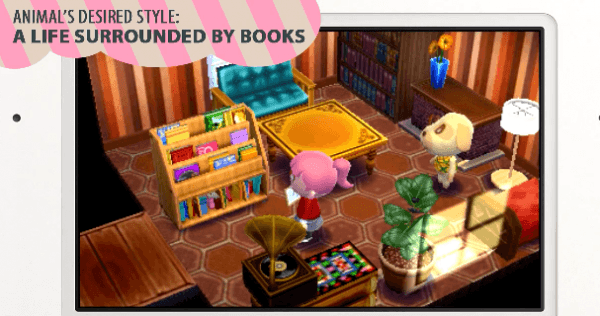 – The game, cards and the NFC scanner for the original Nintendo 3DS will be released this Autumn in Europe.
Mario Kart 8

– Pack 2 of the DLC for Mario Kart 8 has had it's release date moved forward! It will now be available April 23rd and contains four news cars, the Animal Crossing and Bell Cups as well as Isabelle, Villager and Dry Bowser as new characters.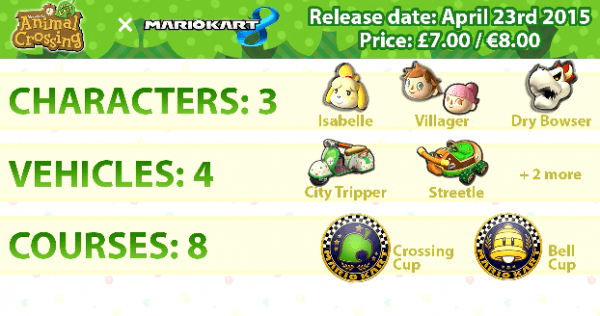 – A free software update will be adding a 200CC class! That's right Mario Kart 8 is about to get way faster and it was said you will even have to break to take hard corners.. This will be available the same day as the new DLC.
– New Amiibo support is being added to Mario Kart 8 to allow players to get more costumes for their Mii racer.
And that's everything! Big day for Nintendo. Let us know in the comments below you're favourite announcement from today's Direct and who you will be suggesting to join the Smash Bros. roster.