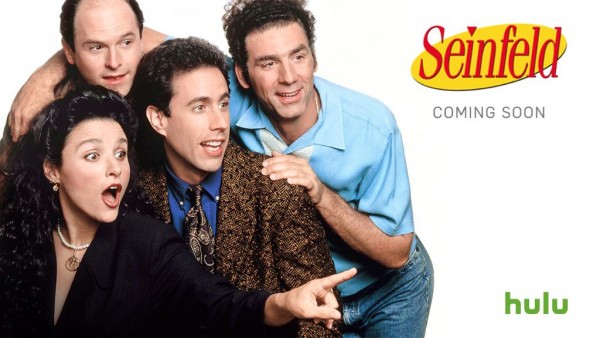 Earlier today, Jerry Seinfeld walked on stage to answer a very important question that many have been wondering for a long time: When will we be able to binge-watch all of Seinfeld from the comfort of our barcalounger without having to get up and change discs? Well, Mr. Seinfeld announced this morning at the 2015 Hulu Upfronts that Hulu has acquired the exclusive SVOD (streaming video on-demand) rights to Sony Pictures Television's extremely popular television series, Seinfeld.
Until this deal, Seinfeld was only available to stream on Sony's Crackle SVOD service (the same service that Seinfeld's current web series, Comedians in Cars Getting Coffee, calls home). And even with that, only a select few episodes are chosen each month to stream. With this new deal, all 180 episodes from all nine seasons of the hit "show about nothing" will arrive on Hulu's streaming service for all to re-discover and even for a few new viewers to discover. This isn't the first time in 2015 that a '90s NBC comedy series reached SVOD. Beginning January 1 this year, the complete series of Friends came to Netflix.
In the beginning, there was TV. Yada yada yada. "Seinfeld" is coming soon to #hulu. #HuluUpfront15 pic.twitter.com/1f6e88JKuz

— hulu (@hulu) April 29, 2015
The 2015 Hulu Upfronts also announced a few new series, including 11/22/63, a mini-series based on the 2011 Stephen King novel about a high school history teacher travelling back in time to stop the assassination of President John F. Kennedy starring James Franco; Difficult People, a comedy series starring Julie Klausner and Billy Eichner as awkward best friends living in New York City; and RocketJump: The Show, a half-hour comedy series from Freddie Wong and the creative minds at RocketJump chronicling the filmmaking behind the newest RocketJump short. For more, read the full announcement at the Hulu blog.