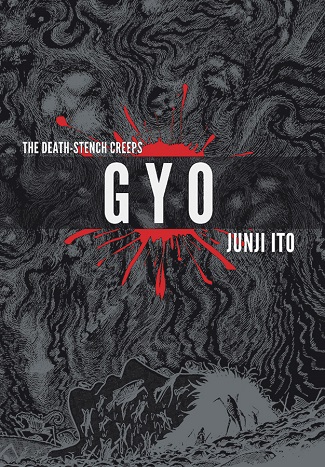 Late last year Viz Media announced that they had acquired the license for Junji Ito's Fragments of Horror and would be releasing it sometime this summer and now the company has announced that they will also be releasing a special "Deluxe Edition" of Junji Ito's Gyo horror manga.
The Gyo Deluxe Edition will be published under the Viz Signature label and will cost $22.99 U.S. / $26.99 CAN when it is released on April 21st. This 400 page two-in-one edition will be a hardcover release that will feature a new cover design and full-color end pages.
For those who are unaware, you've likely seen an image of a shark busting through a door and that is only a snippet of what Gyo is about as the Japanese island of Okinawa is invaded by mutated sea creatures.
A more in-depth story description has been provided by Viz below:
In Gyo, the floating smell of death hangs over an island. What is it? A strange, legged fish appears on the scene… So begins Tadashi and Kaori's spiral into the horror and stench of the sea. Here is the creepiest masterpiece of horror manga ever from the creator of Uzumaki, Junji Ito. Hold your breath until all is revealed.