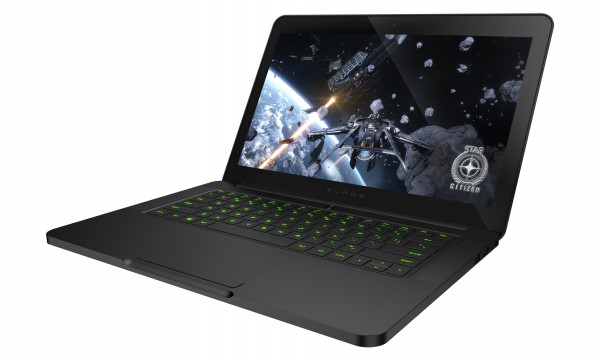 Razer announced their ultra thin gaming laptop will be getting a hardware refresh. The Razer Blade will now come in two resolutions, QHD+ and Full HD. Both models now sport Intel Core i7-4270HQ quad core processors and NVIDIA GeForce GTX 970M graphic cards in a CNC'd aluminium chassis that weighs 4.47 lbs/2.03 kg or less.

The QHD+ model features a 14″ IGZO screen with multi-touch functionality and 16GB of RAM. Systems start at $2199 USD for a model packing a 128GB SSD, with prices going up for the 256 GB and 512 GB options.
A matte 1920×1080 IPS model with no touch screen will be available exclusively through the Razer Store. This model is only available with 8GB of RAM and a 256GB SSD. This is a more affordable model that will cost $1999 USD.
The full specs of both Razer Blade laptops are as follows:
Product features (QHD+ Model):


Intel® Core i7-4720HQ Quad Core Processor (2.6GHz / 3.6GHz)
NVIDIA® GeForce® GTX™ 970M (3GB GDDR5 VRAM)
16GB System Memory (DDR3L-1600MHz)
Windows® 8.1 64-Bit
128/256/512GB SSD (SATA M.2) options
14.0″ IGZO QHD+ 16:9 Ratio, 3200×1800, with LED backlight, capacitive multi-touch
Intel® Wireless-AC 7260HMW (802.11a/b/g/n/ac + Bluetooth® 4.0)
(3x) USB 3.0 port (SuperSpeed)
HDMI 1.4a audio and video output
Dolby® Digital Plus Home Theater Edition
Built-in stereo speakers
3.5 mm microphone/headphone combo jack
Array microphone
7.1 Codec support (via HDMI)
Built-in full-HD webcam (2.0 MP)
TPM 2.0 (Trusted Platform Module)
Compact 150W Power Adapter
Built-in 70Wh Rechargeable lithium ion polymer battery
Razer Anti-Ghosting Keyboard (with adjustable backlight)
Razer Synapse Enabled
Kensington™ Lock interface
13.6 in. (345 mm) Width x 0.70 in. (17.8 mm) Height x 9.3 in. (235 mm) Depth
4.47 lbs. / 2.03 kg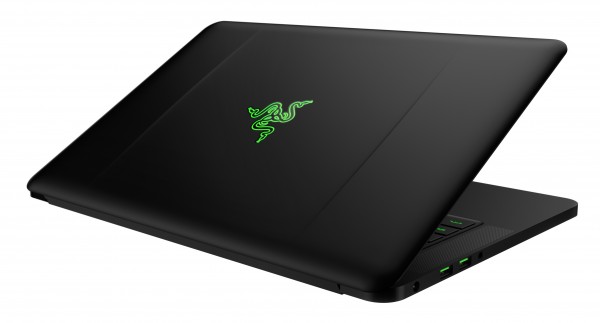 Product features (Full HD Model):

14.0″ IPS Full HD 16:9 Ratio, 1920×1080, with LED backlight
Intel® Core i7-4720HQ Quad Core Processor (2.6GHz / 3.6GHz)
NVIDIA® GeForce® GTX™ 970M (3GB GDDR5 VRAM)
256GB SSD (SATA m.2)
8GB System Memory
Intel® Wireless-AC 7260HMW (802.11a/b/g/n/ac + Bluetooth® 4.0)
(3x) USB 3.0 port (SuperSpeed)
HDMI 1.4a audio and video output
Dolby® Digital Plus Home Theatre Edition
Built-in stereo speakers
3.5 mm microphone/headphone combo jack
Array microphone
7.1 Codec support (via HDMI)
Built-in full-HD webcam (2.0 MP)
TPM 2.0 (Trusted Platform Module)
Compact 150W Power Adapter
Built-in 70Wh Rechargeable lithium ion polymer battery
Razer Anti-Ghosting Keyboard (with adjustable backlight)
Razer Synapse Enabled
Kensington™ Lock interface
13.6 in. (345 mm) Width x 0.70 in. (17.8 mm) Height x 9.3 in. (235 mm) Depth
4.19 lbs. / 1.9 kg