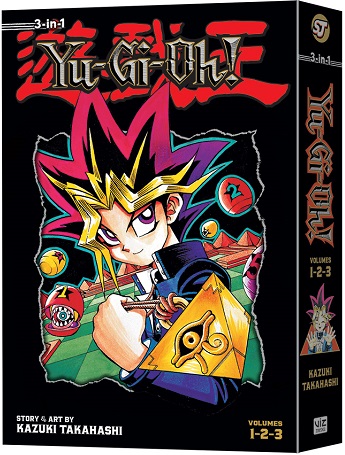 With the original Yu-Gi-Oh! manga being thirty eight volumes in length, it is quite an expensive challenge to try and collect every volume, especially since some may be hard to find now. As such, Viz Media has announced that they are now planning on re-releasing the entire Yu-Gi-Oh! manga series in a 3-in-1 omnibus format.
The first omnibus will be released on February 3rd and it will be priced at $14.99 U.S. / $16.99 CAN. There will be thirteen volumes in total though currently Viz has not announced when fans can expect the second omnibus to be released.
For those who never followed the anime series back when it aired in North America or bothered collecting any of the cards, Yu-Gi-Oh! follows the story of Yugi, a tenth grader who is possessed by the spirit of an Egyptian pharaoh after solving the Millennium Puzzle.
After being possessed by the pharaoh, Yugi challenges numerous opponents to "Shadow Games" with strange stakes and dire consequences for the loser. At least until he enters the world of card games after being challenged by Seto Kaiba to a duel after he threatens his best friends' lives.