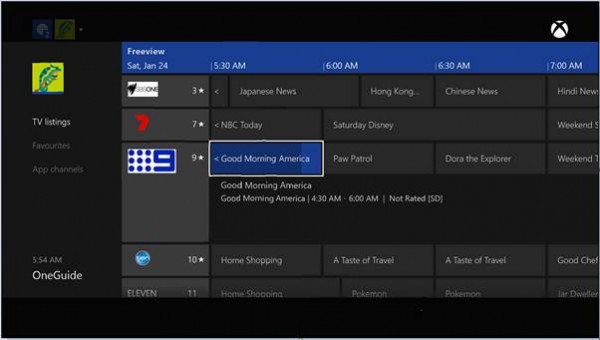 One of the Xbox One's most highly touted features when the console was first announced, but sadly us Aussies missed out on having the convenience of a TV Guide right on our consoles. That is, until today. Microsoft have finally made the OneGuide available for Australian Xbox One consoles, which means that we now get access to all of these great features:
Favourite Channels in OneGuide: Create your own personal favourites in OneGuide so you can more quickly choose what you want to watch.
Channel Tuning by Voice: OneGuide allows you to call out your favourite TV channel by name and start watching it instantly.
TV Listings in the OneGuide: Navigate TV listings using the controller or with Kinect Voice* control – e.g. say "Xbox show guide, what's on Channel 7?" – to quickly navigate directly to that channel's listings for free-to-air TV. Listings are available in both full screen and mini-guide, with the option of parental controls.
TV Playback in Snap Mode: You can now watch TV using the Snap mode, watching TV on the side and leaving the main screen for games, Skype, or other applications.
OneGuide on SmartGlass:  You will have access to the OneGuide listings on the new Xbox One SmartGlass Beta app with the ability to change channels on your TV.   You can download this app from the marketplace or store on your mobile device.
TV On Demand: TV listings in OneGuide will indicate which shows are available on demand from video apps. As if that wasn't enough, Microsoft have also confirmed that they would be releasing a Digital TV Tuner for the console starting in March this year. That means you wont need anthing else but your Xbox One and a television to enjoy all of your media.