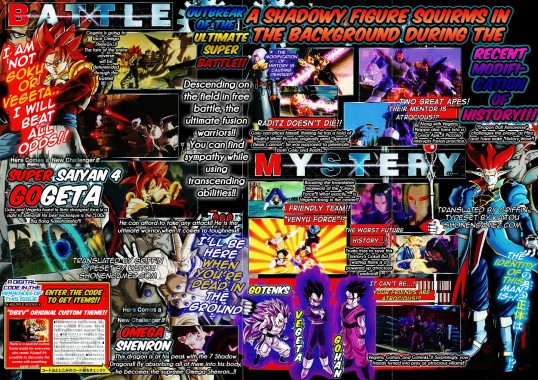 The last scan before the Japanese release of Dragon Ball Xenoverse has been leaked and it brings some awesome news for GT fans. Super Saiyan 4 Gogeta and Omega Shenron, two of the most powerful characters in Dragon Ball history have been unveiled to be part of the playable roster, bring the number of Dragon Ball GT characters up to a respectable five alongside Super Saiyan 4 Goku, Super Saiyan 4 Vegeta (as a pre-order bonus) and Super Android 17.
We also get our very first look at the new villain Demigra, who is believed to be the true villain of the game and be the one responsible for the actions of Towa and Mira. A silhouette for this character was revealed many months ago but it is nice to see his final demonic design. In more interesting news it seems that even the heroes of Dragon Ball will succumb to the control of the villainous Towa, as the scan shows Gohan, Vegeta, Piccolo and even Gotenks under her spell! This original story is definitely going to be interesting. Thank you to ShonenGamez for translating the scan. You can click the scan (pictured above) to view it in full size.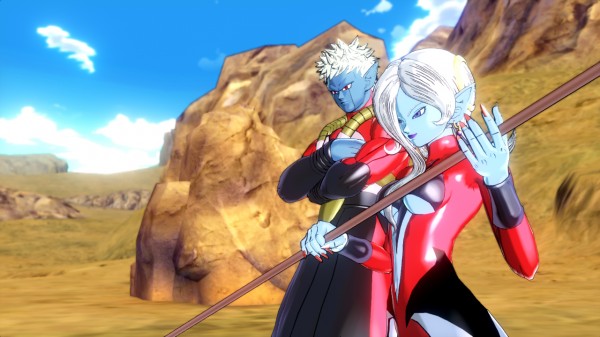 Dragon Ball Xenoverse releases on February 5th in Japan, February 24th in the Americas and February 27th for Europe, the Middle East and Oceania after a slight release date change. The game will be available on PS4, Xbox One, PS3, Xbox 360 and PC through Steam. Over 20 minutes worth of gameplay from a demo in Japan was recently recorded showing off the latest build of the game and some new super moves like Frieza's Death Ball and Goku's Instant Transmission. You can check out the full video below.