Monolith Productions and Warner Bros. Interactive have released a new DLC expansion for Middle-Earth: Shadow of Mordor. This new expansion brings further story content to the game, as well as new monsters and missions. The DLC can be found on digital distribution services for $9.99 (USD).
Monolith has titled this DLC Lord of the Hunt, and it the content brought to the fore is definitely related. Players have been given more beast hunting missions related to Torvin the Dwarf Hunter, which I think is a great thing to build off of. The chemistry between Talion and Torvin was one of the more enjoyable parts of the story to me. They also claim to be adding more lore, which in my opinion as a fan of Lord of the Rings, is never a bad thing.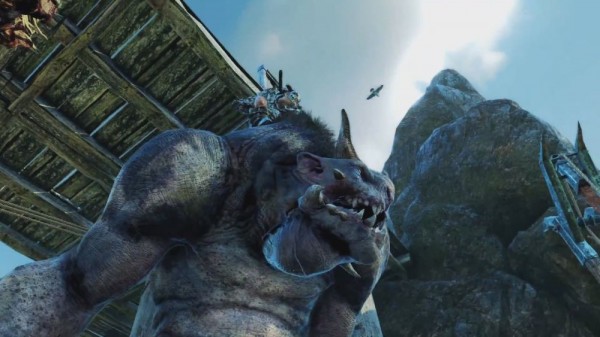 Additionally, new enemy monster types have been added to the game, as well as new Orcs called Beastmaster Warchiefs. These new Warchiefs will be able to ride monsters and engage players in mounted combat. This new type of combat is exciting to see, and looks to add more challenging fights to the game. Check out the full rundown of features in this DLC below.
·New Story & Lore – Discover more tales from Torvin, the Dwarven Hunter, as you work together to tame the beasts of Mordor and fight Sauron's minions.

·New Nemeses – Face off against the Beastmaster Warchiefs, powerful new Uruks who have the ability to ride monsters and engage in perilous mounted combat.

·New Monsters – Ride into battle on the Wretched Graug to vomit toxin at your foes, stalk your enemies on the predatory Caragath and attack from the shadows or raise an all-consuming Ghul Horde.

·New Missions & Challenges – New Beast Hunting challenges and collectibles open up new trophies and achievements.

·New Epic Runes – Make your Mount unstoppable with five new epic Runes that make you the ultimate hunter.

·Test of the Wild – Test your skills against the Beastmasters and mount your trophies on the leaderboard.

·New Character Skin – Lord of the Hunt skin transforms Talion into the ultimate Beastmaster.
The addition of new gameplay features to Shadow of Mordor is exciting, though it's unfortunate that it was added now, after most players have already defeated the game. The new leaderboards and missions do give a good reason to return to the game, however, it does remain a pricey DLC. The major flaw is that unfortunately this new content is not available in the base game, and is only available in a separate Lord of the Hunt mode. Check out the video trailer below.