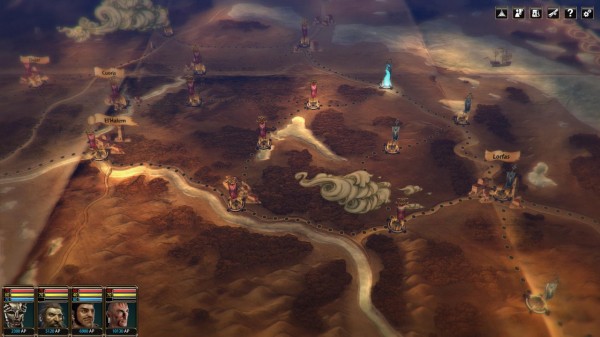 Daedalic Entertainment released their second feature video for Blackguards 2 today, this time discussing new gameplay additions. The game will continue to use The Dark Eye rule system for it's strategic RPG combat. One of the biggest new features is the addition of an open world map, allowing the player to choose what battles they fight, with different paths offering different rewards.
Additionally, players will be able to recruit mercenaries for their armies, who come in a variety of classes. There will also be a hub where players can do a multitude of things, from interrogating prisoners to purchasing new items. The enemy AI will also be able to attack areas that the player conquers, forcing the player into a new, defensive, battle type. This defensive battle type will also allow players to trap the field against the enemy.
Combat has made more streamlined and dynamic, though hopefully it hasn't been simplified too much away from it's roots. The user interface has also been cleaned up, helping to reduce the complexity on-screen for the player. Melee players have also been given a new stat, Endurance, in order to limit special moves and force the player to think more strategically.
The new game looks to be more accessible than the original Blackguards, although Daedalic promises that the game will remain a complex strategic game. You can read our review of the original Blackguards here, and you can watch today's new gameplay trailer as well as November's new character & faction trailer below.
New Features Trailer
New Characters & Factions Trailer