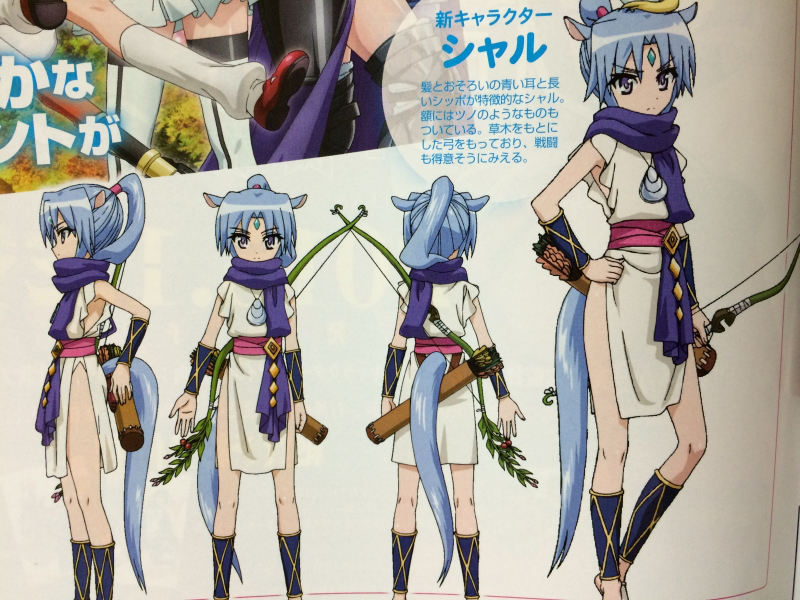 It seems like it has been forever since a third season for Dog Days was announced but the time when it will air is slowly approaching. This third season from Masaki Tsuzuki, called Dog Days", will debut in January and not only have some new details about the anime been revealed but a commercial for the third season has also been released.
The most recent issue of Nyantype magazine has revealed that a new character named Sharu, shown above, who wields a bow and will be voiced by Sumire Uesaka will be introduced in this third season alongside all of the returning cast members, though exactly what role she will play in the story is currently unknown. As for the commercial, it happens to be a character introduction and it happens to focus on introducing Rebeca and Kubera, both of whom were added to the main cast in the second season.
From what we do know, the story will take place two to three months after the second season and for those who aren't familiar with the series, likely due to the fact that no one has picked up the series for localization in the West (something of a problem with Masaki Tsuzuki's works) the story takes place in an alternate world where a princess named Millhiore summons a hero in order to help her kingdom, the Biscotti Republic, compete against other nations in wargames resulting in what is generally an extremely light-hearted series.
Additional artwork and information can be found on the official website for Dog Days".