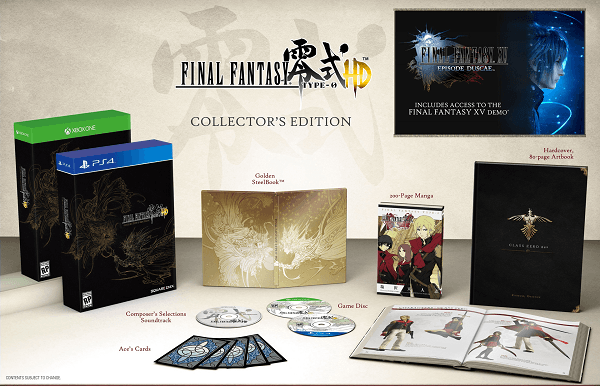 Square Enix has announced that there will be a special collector's edition version of Final Fantasy Type-0 HD released alongside the standard version. This collector's edition costs $99 and if you pre-order directly from Square Enix website, you will be automatically entered into a sweepstakes to win some prizes that include a Final Fantasy Type-0 HD themed PlayStation 4 or Xbox One and much more.
The collector's edition includes the following:
Golden SteelBook Case: Featuring illustrations by world-renowned artist Yoshitaka Amano, this premium case holds both the game and soundtrack CD.
Composer's Selections Soundtrack: Includes 15 tracks hand-picked by the game's composer, Takeharu Ishimoto.
Final Fantasy Type-0 Manga: A complete 200 page manga comic establishing the world and characters of the game.
80-Page Art Book: Dive into the war-torn land of Orience through its illustrations and art renders.
Ace's Cards: Five life-size replicas of the iconic cards held by Class Zero's Ace.
Final Fantasy XV: Episode Duscae Demo: Every copy of the Collector's Edition includes a code for the Final Fantasy XV playable demo. Be among the first to play the game with your order of Final Fantasy Type-0 HD.
The company also stated that the Final Fantasy XV demo will only be included in Final Fantasy Type-0 HD first print copies and will never be released as a standalone download. This means that if you really want to get the demo, pre-ordering a copy of Type-0 HD is probably your best bet.