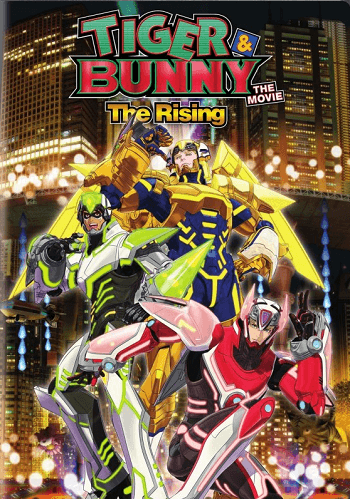 Recently Viz Media revealed that the second film in the Tiger & Bunny series, Tiger & Bunny: The Rising, would be released next year on February 24th and today we have been given a glimpse of what the full package will contain.
The release will 94 minutes in length and fans of the series can either pick up a Blu-ray/DVD combo pack for $29.99 or a standard DVD version for $19.99. The combo pack will feature a number of extra on-disc bonus features including a World Premiere Event, a special digest, as well as various original promotional material.
For those who haven't been keeping up with Tiger & Bunny: The Rising, the movie involves Kotetsu Kaburagi, also known as Wild Tiger, being fired by Apollon Media's new owner, forcing an end to his partnership with Barnaby. Barnaby is now moved back into the First League and paired up with a new hero with a massive ego called Golden Ryan. However when the heroes are sent to look into a series of strange events tied to the city's Goddess Legend, they find three NEXTs planning on bringing destruction to the city of Stern Bild.