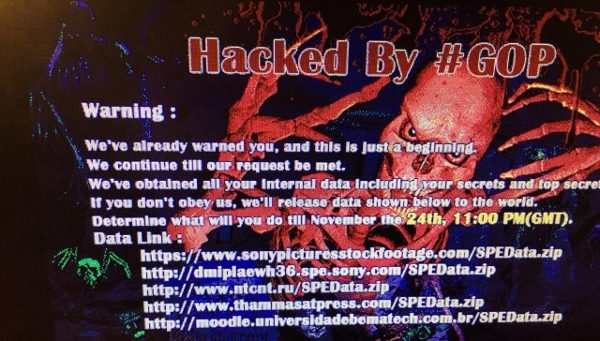 Sony is pushing its way through some challenging times.
Starting the week off was Monday's hacking scandal. Earlier this week many employees at Sony Pictures Entertainment could not access their work network. Instead they were greeted by a rather spooky skeleton requesting that their (unrevealed) demands to be met and threatening to release confidential data. The hack was conducted by a group called #GOP (Guardians of the Peace) who subsequently leaked a zip file containing sensitive documents revealing a number of passwords (current and old) in addition to financial data. A number of twitter accounts also seem to have been hacked.
In further Sony Pictures related news, after acquiring the rights to make a biopic about Steve Jobs the company has now dropped the project, instead shipping it off to Universal Studios for what's a price tag suspected to be around $30 million. While no comment has yet to be made on why the company no longer wishes to produce the film, there are suspicions that the timeline was simply too short for Sony Pictures to manage. It's also supposed that Sony wanted to push back the timeline to make room for their other 2015 releases. This push back would have meant the loss of their chosen lead, Micheal Fassbender, who will be busy shooting X-Men: Apocalypse. However, this decision to drop the film is probably in Sony's best interests considering that its entertainment division looks to be struggling.

Actually, the whole company is attempting to overcome some serious losses, last moth seeing an operation loss of $765 million. Additionally, Sony is making plans to cut 15% of staff, has made serious managerial changes and watched as Xperia handsets sell less successfully than expected.  To compensate, the business will place a greater emphasis on its electronic devices and gaming divisions, especially after the huge success of the PlayStation 4.
Furthermore, Sony looks as if it will not renew its contract with FIFA. This news comes after the recent controversy regarding the corruption within FIFA's bidding process for the 2018 and 1022 World Cups. While Sony has not officially stated why, or even if, it will breaking the eight year partnership, FIFA has denied it's connection to the bidding scandal. However Sony will not be the only big time sponsor cutting ties with the association at this time, Emirates ending their sponsorship earlier this month.
If Sony didn't already have enough on its plate, earlier this week Sony settled with Federal Trade Commission, agreeing to partially refund PS Vita owners who bought their devices during the US launch. The settlement came after complaints made by the FTC accusing the company and it's advertising agency, Deutsch LA, of making misleading claims about the portable gaming system.
All in all, Sony has some rough times ahead although, being the wildly successful company that they are, it's hard to imagine the giant pulling through with more than a few scratches.