'Puyo Puyo Tetris', the merging of two famous puzzle games – Puyo Puyo and Tetris – will be released into Japanese markets on December 4th, available to Playstation 4 and Xbox One owners.
Addictive and fast paced, the multiplayer modes have always been a staple of Puyo Puyo and the trend looks set to continue in Puyo Puyo Tetris. Sega have released a trailer on its website (available below), detailing the different multiplayer modes that gamers will get to choose from. There are five modes in total:
Vs – a 1v1 mode, where players can choose to play Puyo Puyo or Tetris together, or even a combination of both at the same time.
Puyo Tet Mix – players will need to handle grids of Puyo Puyo and Tetris at the same time.
Swap – a countdown will start during this mode, and when it expires the game modes will swap.
Party – up to 4 players with power ups available.
Big Bang – immediately sent into fever mode, players will need to create 'garbage' that will end up being destroyed – hence the 'Big Bang'.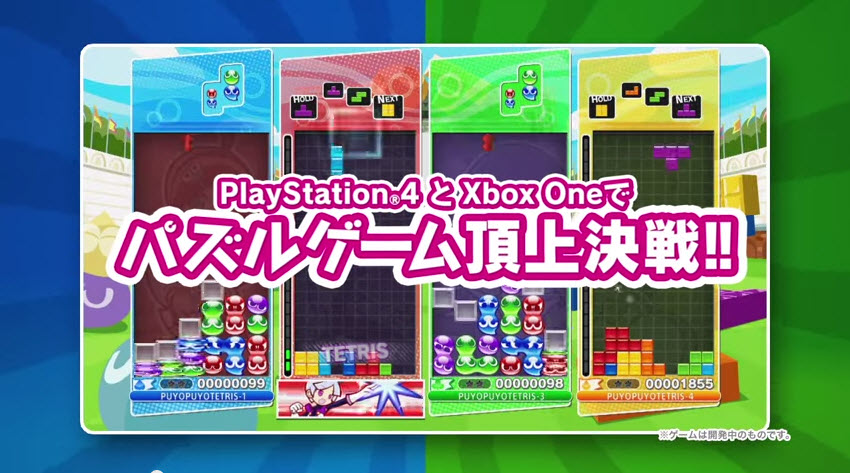 Aside from the modes highlighted above, there is the 'National Puzzle League', where players all over the world can compete together and rise through the ranks. There is also a club that requires registration, which at the time of writing seems to be exclusively used for expanding your network of friends within the game.
Last but certainly not least, replay videos of your memorable matches or otherwise, can be shared amongst friends and the Puyo Puyo Tetris community. If the game appeals to you, but you are dissuaded by the language options, then try out the recently released Tetris Ultimate.