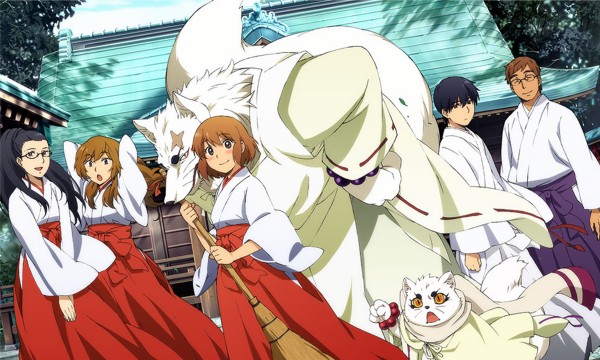 Over the past few days Sentai Filmworks has picked up a number of slightly older anime series that were passed over when they were airing. Today the company has announced that they have acquired the license for Gingitsune, an anime which aired during the Fall 2013 anime season and was animated by Diomedéa.
Although no set date has been revealed for the release, the company is planning on releasing Gingitsune on home video and through digital markets.
The story of Gingitsune is described by Sentai Filmworks as follows:
Although Makoto Saeki's life is quiet, it's anything but ordinary! As the 15th successor to the Saeki Shrine, Makoto is gifted with the ability to see spirits of all sorts. But there's one spirit in particular who has been at Makoto's side since childhood— Gintaro, the huge silver fox who's occupied her family's shrine for over 350 years!

With a love for oranges and a gruff demeanor, Gintaro serves as both messenger of the gods and guardian of the Saeki family shrine. When Gintaro's not lazing about or napping, he's reluctantly helping Makoto tell the fortunes of classmates and providing wisdom as necessary. But with other spirits in the area who need just as much, if not more, help than their human counterparts, Makoto and Gintaro always have their hands full helping out those in need!