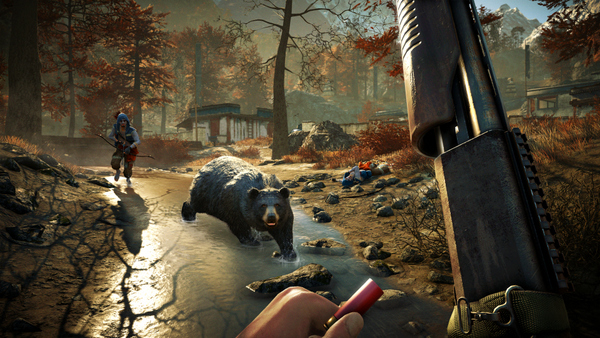 Ubisoft pulled back the curtain on the PvP multiplayer component of Far Cry 4 today. Summed up in a new trailer, there will be three modes that will pit two teams of five against each other in a 20 minute battle. Each team will get a chance to play both factions. The best performing team overall will win the match. The rebellion Golden Path team uses modern weaponry and vehicles to dominate the battlefield with sheer force. The Rakshasa, who serve as Pagan Min's elite forces, use ancient magics, traditional weapons, and summoned creatures to catch their opponents off balance.
There will be ten maps available at launch. Outpost mode is an attack/defend push map that will see the Rakshasa attacking Golden Path outposts. Propaganda is a similar attack/defend mode that will have the Rakshasa on the defensive. Finally, Demon Mask is a single flag type capture the flag mode.
Far Cry 4 will be released for PlayStation 3, PlayStation 4, Xbox 360, Xbox One, and Windows on November 18th, 2014.