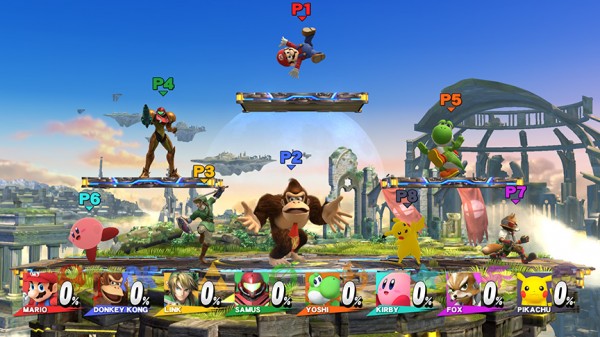 The Super Smash Bros. Wii U specific Nintendo Direct aired earlier today and Nintendo has literally dropped an atomic bomb of incredible information on every Smash Bros. and Nintendo fan out there. I will go into more detail below but quickly summing up all the best bits we have 8 players in one match at the same time, Smash Tour to replace Smash Run, Event matches are back, Custom Stage Creator is back, Bowser Jr. reveal trailer, more awesome stages, heaps more music and trophies than the 3DS version and did I mention Mewtwo will be making a playable appearance as a DLC character later down the track?
More information on what I've mentioned above and even more is available below but if you would rather see this in video form make sure to check out the embedded Nintendo Direct video below.
Eight-Player Mode: In a first for the series, a special mode lets eight players fight simultaneously in local multiplayer. This option appears only in the Wii U version, and lets players compete on special, larger stages to accommodate all the characters.
amiibo Figures: Once a player touches an amiibo figure to the NFC touchpoint on the Wii U GamePad, the character joins as a "Figure Player". The amiibo figures can gain levels to become stronger as they gain experience through battling and are fed equipment by the player. Players can also have amiibo fight each other, and amiibo will bring you presents from the battles they fight in.
Online Multiplayer: This time it's possible to team up locally with a friend to compete "With Anyone" online, amongst other options. In the future, players will be able to set up customised Tourneys and there will also be Official Tourneys. Voice Chat with Friends through the GamePad before and after battle, on the Fighter Selection and Results screens.
Custom Stage Creation: The touch screen of the Wii U GamePad makes it easier than ever for players to build their own stages and, after a future update, share them with friends and other players around the world. You can literally draw the platforms any shape you like!
Controls: The Wii U version features more controller options than any other game in the series, such as the Nintendo GameCube Controller through the GameCube Controller Adapter for Wii U, amongst others. In addition, players who own the Nintendo 3DS version of the game can use their Nintendo 3DS or 2DS systems to control the action on the TV screen in Smash Mode on the Wii U version. You can play off-screen on the Wii U version as the GamePad displays the same image as the TV but can also display character's health percentages during a match instead.
Importing Fighters: Fans of the Nintendo 3DS version of the game can immediately benefit from the fruits of their smashing labors. Players can import custom Nintendo 3DS fighters (including Mii Fighters) to the Wii U game, along with their customised equipment, costumes and hats.
Special Soundtrack Offer: Everyone who registers both the Nintendo 3DS and the Wii U versions of Super Smash Bros. on Club Nintendo during the promotional period will receive a two-disc soundtrack of music from the games. Mewtwo: This veteran fighter will be made available as free downloadable content in Autumn 2015 (Australia) for anyone who registers both the Wii U and Nintendo 3DS versions of the game with Club Nintendo during the promotional period.
Modes: The Wii U version of the game offers many new modes and different ways to play that keep players coming back for more, including:
o    Smash Tour: A fighting party game that looks like a board game and replaces Smash Run. Players use items, spin a wheel and advance around the map. Up to four players can compete at once as they navigate the board and gain fighters and power-ups they can use in a final battle.
o    Special Orders: In Master Orders, the more difficult the order from Master Hand you undertake, the higher your reward – but you only get to try once. In Crazy Orders, you pay to enter and battles get harder the longer you survive. Will you know when to stop and reap your rewards?
o    Special Smash Mode: Players can customise battles and play any way they like.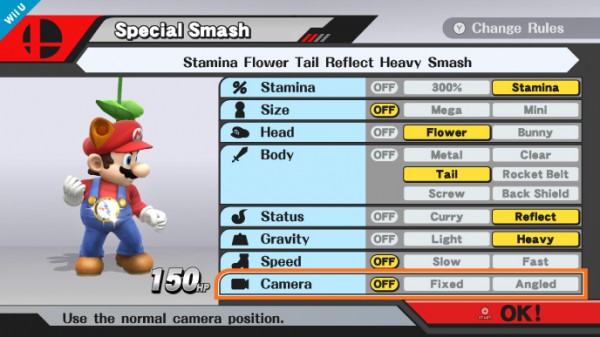 o    Coin Battles: Players compete to collect coins from other players.
o    Stamina Matches: Players fight until their hit points reach zero.
o    Classic Mode: One or two players fight through a series of battles and advance as long as they survive. Many random events can shake things up, and players can adjust the intensity settings. The more difficult the game, the greater the rewards. This mode is pretty different to the classic mode we have seen in the past. You can play nearly all single player modes co-op with a friend to get two trophies instead of one! An additional giant boss in Master Fortress will appear at the end of this mode if you play on a high intensity level and make it to the end!
o    All-Star Mode: Unlike in the Nintendo 3DS version, opponents appear in reverse chronological order, and two players can battle through this mode together. Beating this mode will give you an impressive looking Final Smash trophy for that character.
o    Event Mode: One or two players take on set character and theme-based battles. Clearing stages helps players see the way forward. There is both a solo and co-op event mission tree.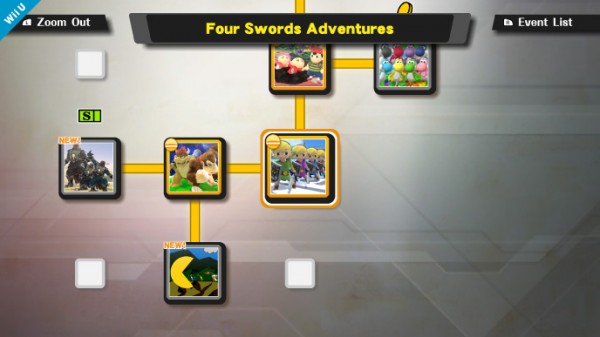 Masterpieces: This menu gives players a peek into the past lives of some of the Super Smash Bros. characters. Players can play cut-down versions of selected characters' greatest games.
Stages: The Wii U game offers more stages, with more variety, than any game in the series. There is now an expanded version of the original Battlefield stage named Big Battlefield. The Great Cave Offensive, based on the underground labyrinth found in Kirby Super Star, challenges players to avoid potentially lethal danger zones – or throw their opponents into them. The Jungle Hijinxs stage, based on Donkey Kong Country Returns, features dual-plane battles with a foreground and background, and blast barrels that shoot players from front to back and vice versa. After launch, a new Miiverse stage will feature players' posts from Miiverse, where posts will appear in-game to cheer on the fighters.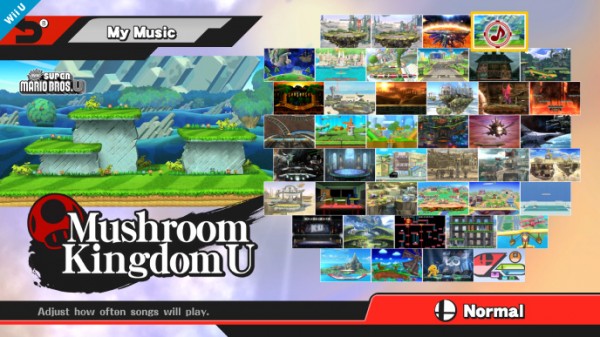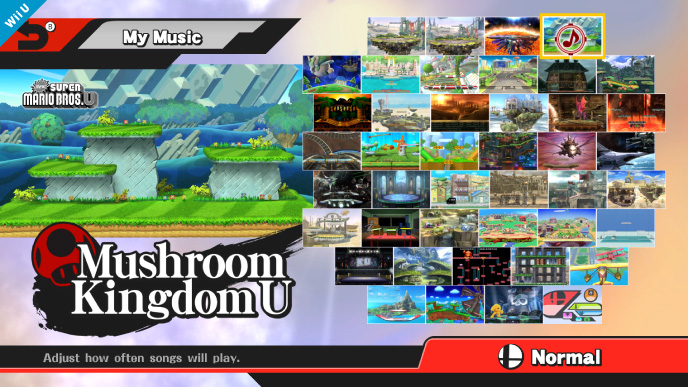 My Music: The game includes hundreds of songs and jingles that players can listen to, as well as settings to customise what music plays during gameplay. Players add songs to their library by collecting CDs that appear while smashing or after completing challenges.
Movies: Like in the past, when players clear Classic or All-Star Mode, they'll be treated to a brief movie featuring whichever fighter they used. Every fighter has a movie, so it'll be a challenge to view them all. Additionally, HD versions of the new fighter introduction videos are available to watch.
Ridley: Fans have been clamouring for Ridley to appear in a Super Smash Bros. game for a while and now they're getting their wish – but true to form, Ridley appears in an unexpected way. Players will find him in the Metroid series-inspired Pyrosphere stage, but he does more than just hassle players. If one player attacks Ridley enough, Ridley will join that fighter's side and attack others. Players (including the one on Ridley's side) can KO Ridley to earn the point for match results. If Ridley consumes the energy to the side of the ledges, he will become Meta Ridley – and all the more vicious!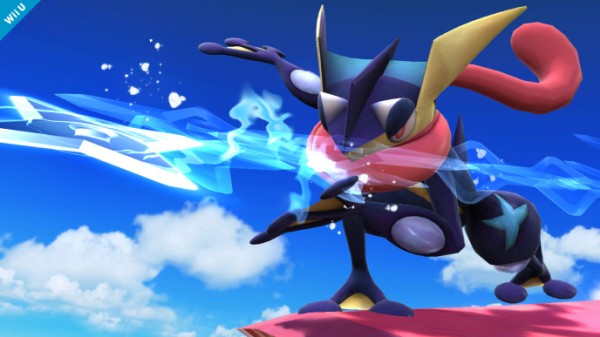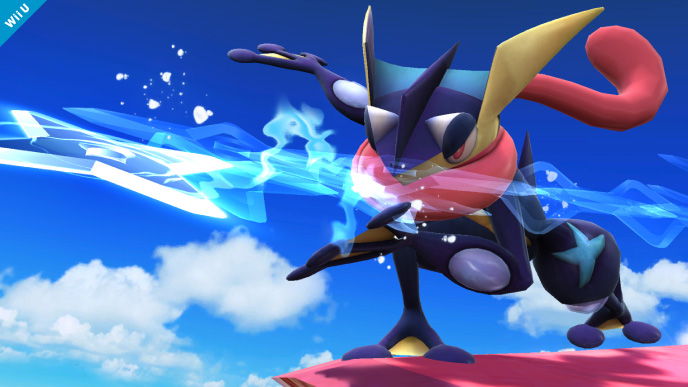 Metal Face: Metal Face appears as a boss stage hazard at night on the Wii U Guar Plains stage.
Characters: The Wii U version offers players 40 characters plus Mii Fighters from the start. Each character's moves match those found in Super Smash Bros. for Nintendo 3DS, so players who hone their skills in the portable game will have an edge over opponents in the console version of the game.
Palutena's Guidance: Choosing Pit on Palutena's Temple and using his down taunt will bring up dialogue between Pit, Palutena and other characters from Kid Icarus:Uprising talking about the character you are fighting. Special dialogue will also appear between the Star Fox characters on the Orbital Gate and Lylat Cruise stage.
Challenges: Like in Smash Bros. Brawl a challenge grid will be available to slowly complete the cells of it overtime. As you complete tasks, the ones next to it become visible. The grid looks pretty big and will take a while to complete.
Trophy Cases: The trophy collection will have small collections you can complete by gathering certain groups of trophies such as 8 X & Y Pokemon.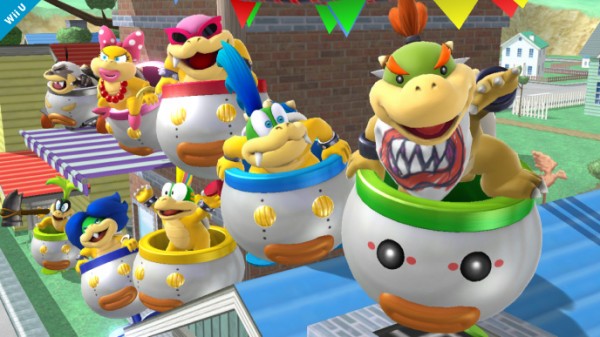 Photo Paint: Taking photos during gameplay is back but now you can even draw on your pics using the Wii U GamePad.
Bowser Jr: Bowser Jr. officially unveiled with the 7 Koopalings as alternate costumes.
I apologise if I've missed anything but you can see just how information Nintendo dropped on us here. If you want to make sure I haven't missed anything, make sure you watch the video below and then feel free to let me have it in the comment section.