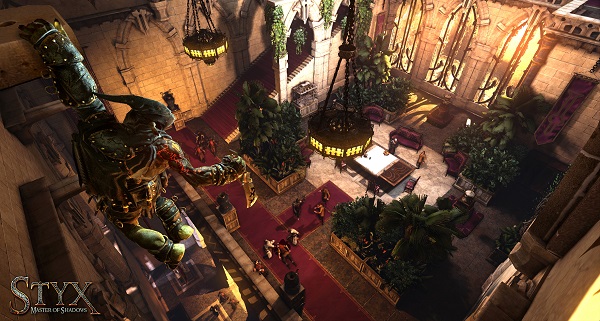 Styx: Master of Shadows released a gameplay trailer today as a followup to the first Assassin's Green video. The new trailer makes great use of Styx's clone ability to temporarily disable guards while he makes his way to the top of the tower. The clones behave like a magical controllable smoke bomb, allowing Styx to run right up to guards and blow up in a puff of noxious smoke or jump on their faces to keep them busy.
The trailer continues to show how Cyanide Studios has emphasized the vertical design of the levels. There is generous shots of Styx deftly scaling walls to ambush enemies from above while the rest of the level sprawls beneath his feet. Outdoor and indoor areas seem to have been combined into a smooth transition, as Styx is spotted climbing around outside, then sending a clone indoors to blind a pair of unsuspecting guards.
Styx: Master of Shadows will launch for PlayStation 4, Xbox One, and Windows on October 7th, 2014.