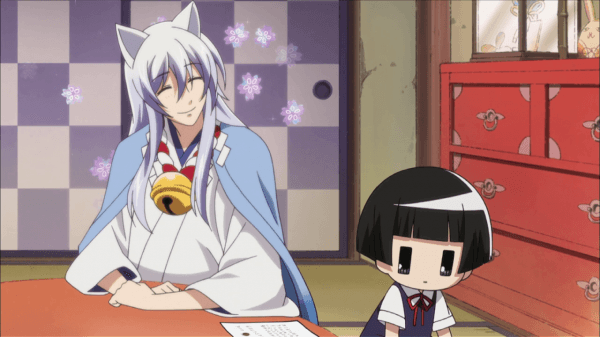 Sentai Filmworks is continuing to pick up a number of anime licenses this season as they have just announced that they have acquired the streaming and home video release rights to the supernatural comedy anime Gugure! Kokkuri-san.
Gugure! Kokkuri-san began as a 4-koma manga and the anime adaptation began airing in Japan back on October 5th and is being animated by TMS Entertainment. To go along with this licensing announcement the company also provided the below plot synopsis:
Enter Ichimatsu Kohina— an unusual young girl with an even more unusual diet. Living off of nothing but cup ramen, the emotionally-detached Kohina spends her spare time attempting to summon ghosts in her giant home. But when Kohina actually does manage to summon a spirit, she finds herself face-to-face with a handsome young fox ghost named Kokkuri. Although Kohina wants nothing to do with this white-haired weirdo, this determined ghost refuses to take "no" for an answer.

And when Kokkuri witnesses Kohina's deplorable dietary decisions, he has no choice but to go from haunting her to taking care of her! But where there's one ghost more are sure to follow, and soon Kohina goes from living alone to living with an assortment of handsome supernatural entities. Underestimating his powers and undermining his authority as her new caretaker, a new life is about to begin for a strange girl and a fox ghost in Gugure! Kokkuri-san!!!