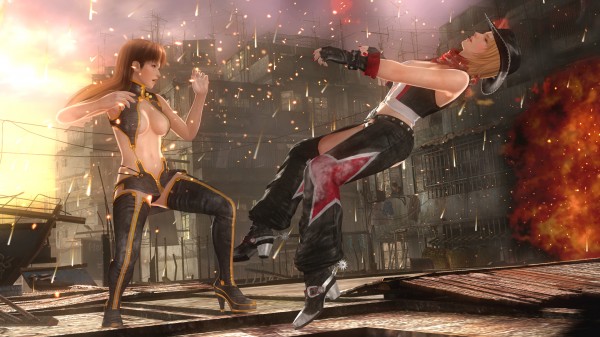 Koei Tecmo has announced that Dead or Alive 5: Last Round will be released in North America on February 17th and in Europe on February 20th. The PlayStation 4 and Xbox One versions of the game will be sold at $39.99 and will be available at retail and as a digital download while past-gen versions will cost $29.99 and will only be available as a digital download.
Now that the official release date has been announced, pre-order bonuses have been revealed. Those who pre-order Dead or Alive 5: Last Round from Gamestop will be given "Ninja" (for Ayane , Hayabusa, Hayate and Kasumi), and Aloha (for Ayane, Hitomi, Kasumi and Mila ) costume sets while those who pre-order from Amazon and Best Buy will be given the "Showstopper" (for Christie, Helena, Lisa and Tina) and "Beach Party" (for Kokoro, Leifang, Momiji and Rachel) costume sets.
The company also announced that the Core Fighters version of Last Round, which includes Ayane, Hayate, Kasumi and Ryu Hayabusa, will also be released for free on the PlayStation 4 as well as the Xbox One, though it is worth noting that the Xbox One version is classified as a demo and can not be expanded upon without first purchasing it for $4.99 and unlocking Hitomi, Tina, Jann Lee, and Bass.