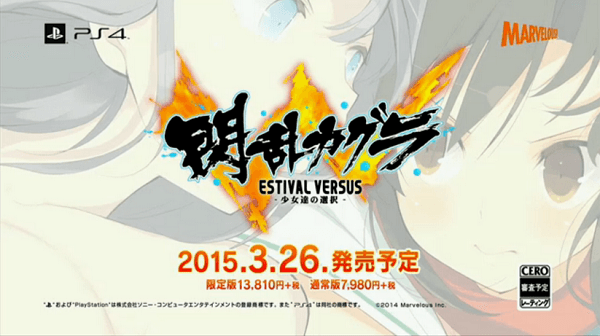 Fans of the Senran Kagura series will be happy to hear that "life and hometown" will be arriving on the PlayStation 4 on March 26, 2015. Today during Sony's press conference it was revealed that a new Senran Kagura game is in the works and it happens to be called Senran Kagura: Estival Versus. Very few details for the game have been released but since the announcement it has also been revealed that the game would also be heading to the PlayStation Vita.
カンファレンス | 『閃乱カグラ ESTIVAL VERSUS -少女達の選択-』、(株)マーベラスよりPS Vitaに加えPS4™でも発売決定! #プレイステーション0901 pic.twitter.com/So5IGvOMNl

— プレイステーション公式 (@PlayStation_jp) September 1, 2014
Considering this is a release on Sony platforms, it will likely continue the storyline from Senran Kagura: Shinovi Versus which is set to be released in North America later this year by XSEED Games.