French film auteur Luc Besson had a 2014 box office smash in Lucy, starring Scarlett Johansson, and the Marvel connection continues with Intersections, starring Frank Grillo (Brock Rumlow in Captain America: The Winter Soldier) and Jaimie Alexander (Lady Sif in Thor, Thor: The Dark World). The 2013 made thriller is finally hitting store shelves in Australia under its original title (known as Collision in the U.S.) this October 15th thanks to Icon Home Entertainment, on Blu-ray and DVD, as well as Digital.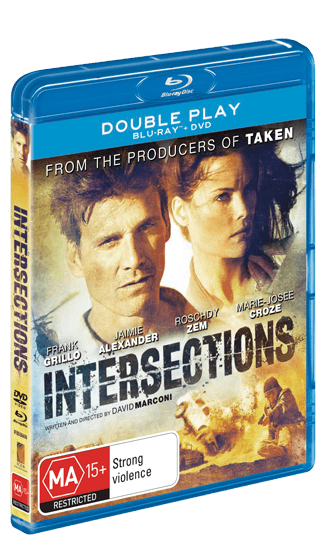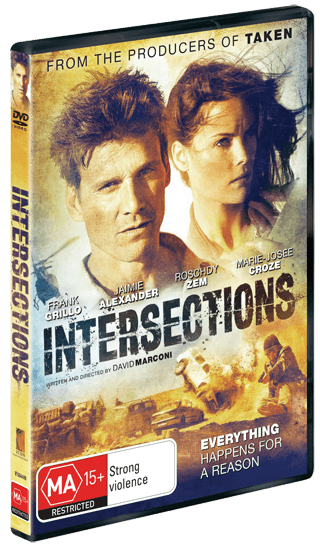 To celebrate his honeymoon, Scott Dolan (Grillo), an international hedge fund manager, has travelled to Morocco with Taylor (Alexander), his new bride. Flying by helicopter, they reach a remote Moroccan hotel unaware that this was going to be an unforgettable holiday for all the wrong reasons. Everything is going to plan until Scott decides to go in search of some fascinating abandoned forts in the desert. He and Taylor take their rented four-wheel drive for a spin through the sand dunes until things turn for the worse. Pursued suddenly by an aggressive driver in the middle of the desert, they have a brutal and disastrous car accident, leaving several people dead and numerous injured. Facing the horror of the accident, Scott and Taylor are forced to trust a mysterious group of strangers if they want to get out alive. Soon they're in the fight of their lives and struggling to untangle themselves from a growing web of betrayal and danger.
Intersections has all the hallmarks of a Luc Besson film, except for the sci-fi tint: well-shot action, great practical effects and impressive performances from its cast. Check it out as a "honeymoon like no other" unfolds.