2K has revealed details behind one of the premier modes of WWE 2K15, called '2K Showcase'. The mode will share similarities with WWE 2K14's '30 Years of WrestleMania' in that it focuses on reliving certain memorable moments in the history of the WWE, except that it will chronicle two specific feuds from start to finish in extreme comprehensiveness.
Those rivalries that will come on-disc at launch, this October 30th, are Triple H vs. Shawn Michaels from 2002 to 2004, and, somewhat surprisingly considering recent circumstances and events, CM Punk vs. John Cena from 2011 to 2013. The mode spans 33 in total, but additional 2K Showcase rivalries will be created as DLC post-launch. Chris Snyder, Vice President of Marketing at 2K, said of the two main inclusions;
The moment Triple H ended his long-time friendship with 'The Heartbreak Kid' by slamming him with a Pedigree was a defining moment in WWE history. No fan can deny the fierce competition marking the notorious battles waged between Cena and Punk. These two rivalries are firmly etched in WWE history, and 2K Showcase enables fans to take part in those memorable experiences.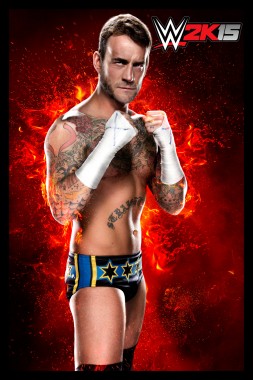 These epic rivalries will be told through a mix of documentary-esque video packages, archival footage, authentic WWE Superstar commentary and breathtaking cinematics. Across the 33 matches, there will be many bonus historical objectives for the player to complete that will unlock new WWE Superstars, Championship titles and alternate attires, all of which can then be utilised in any mode of the game. Paul 'Triple H' Levesque, Executive Vice President, Talent, Live Events & Creative at WWE, added;
Featuring two of the biggest rivalries in WWE history, including my storied matches with Shawn Michaels, there's no doubt fans will experience the thrill first-hand through WWE 2K15. 2K Showcase brings WWE to life in a way our fans have never seen before through a video game.
WWE 2K15 is being developed by both Yukes and Visual Concepts, and is not yet rated for Australia and New Zealand. "Feel It!" on October 30, for the Xbox One, Xbox 360, PlayStation 4 and PlayStation 3. Pre-order it now and receive two generations of 'The Icon' Sting! Wooooo!
For more information on WWE 2K15, stay tuned to Capsule Computers, visit WWE.2K.com, like the official page on Facebook, follow the game on Twitter using the hashtags #WWE2K15 and #FEELIT and subscribe on YouTube!