Two DLC packs have been announced for Mario Kart 8 including two new cups, new characters and new vehicles alongside some other bonuses. The first pack will be available towards the end of November this year and features a cross over with the Legend of Zelda series, bringing with it Link as a playable character and a track based on the Zelda universe. The other three tracks in the first DLC pack appear to be Wario's Mines from Mario Kart Wii, a track based on the F-Zero franchise and a track based on Excite Bike. Tanooki Mario and Cat Peach will appear alongside Link as new playable characters (because we don't have enough versions of Peach and Mario on the roster already!) and the Blue Falcon vehicle will also be making a return to represent the F-Zero franchise alongside three other vehicles.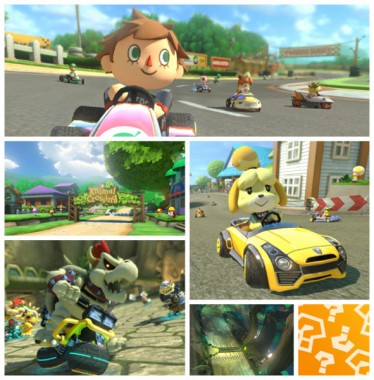 The second DLC pack will have an Animal Crossing focus and feature Isabelle, Villager and Dry Bowser as playable characters. This set will feature a course based on the Animal Crossing franchise as well as a dark forest course and will be released at the end of May 2015. Both packs are set to cost $10.00 AU but you can purchase both as a bundle for $16.00, not a bad price considering this will increase the number of tracks available in the game by 50%. As a bonus for those that do grab both DLC packs either separately or through the bundle,  players will receive 8 different coloured Yoshi and 8 different coloured Shy Guys to use immediately.

Users can preorder the DLC by clicking the in game shop menu which will be available once they download the new Mercedes Benz update which goes live tonight in Australia. Let us know in the comments below how you feel about Nintendo jumping on the DLC train and if you will be purchasing any of these DLC packs in the future.