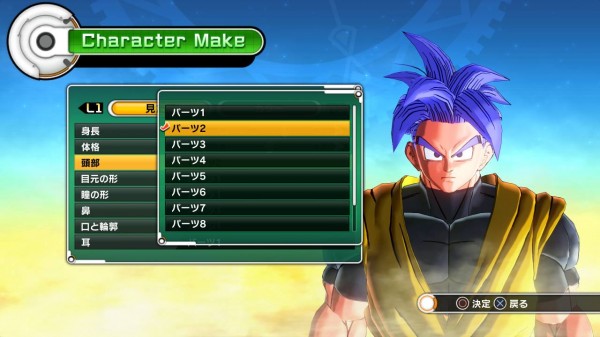 It was recently confirmed that the Mystery Warrior seen in an early trailer and screenshots for Dragon Ball Xenoverse was a custom character, and now more details have been released regarding the amount of depth we can go in creating our our own Dragon Ball heroes or villians and so far it looks very promising. The player first chooses a race from the Dragon Ball universe as a base with Earthling, Saiyan, Namek and Majin being confirmed so far, but more have been promised with Bandai Namco saying all major species will be available as a base for the players' avatar.Each race will have special attributes, with it being known Saiyans will be able to transform into at least the first stage of Super Saiyan.
Players then select a gender and can then customise their characters physique across many categories including Height, Body Size, Head, Eye Shape, Pupil Shape, Nose, Mouth, and Ear. As you can see from the gallery below, the body types will be very different, with the former Mystery Warrior Saiyan looking rather slim compared to the more buff Saiyan in the pick below.
You can then deck your character out in cool gear with an Upper Costume, Bottom Costume, Gloves, Boots, Accessories and more, with the player being able to alter the colour of all these parts along with their skin colour. Some parts will be earned as you progress through the game.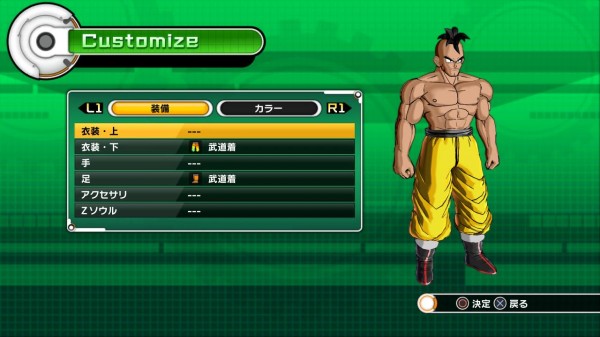 At the beginning of the story, Time Patrol Trunks summons the player's Avatar who will have to complete a series of tests. If they are deemed worthy they will then be able to gather with other online players in the futuristic hub city: Toki Toki City, where players can admire each others custom players and challenge people to battles. Bandai Namco also reiterated on its closed beta but didn't give many details away to it's English speaking audience. It was revealed on the official Japanese site that two rounds of Beta's will be happening with the first being restricted to PS3 users with Japanese account and the second being worldwide on PS3. The first phase will be running for 27 hours from September 20 and the second round will last just as long starting on October 4th. The network test has been implemented to assess gameplay balance and mechanics, server load, exploits and that users are enjoying the concept of the game.
We will be covering Dragon Ball Xenoverse extensively when we get a chance to play it at EB Games Expo on October 3rd so keep checking back as we bring you our impressions of the game from the show floor along with all the other updates as they are announced.