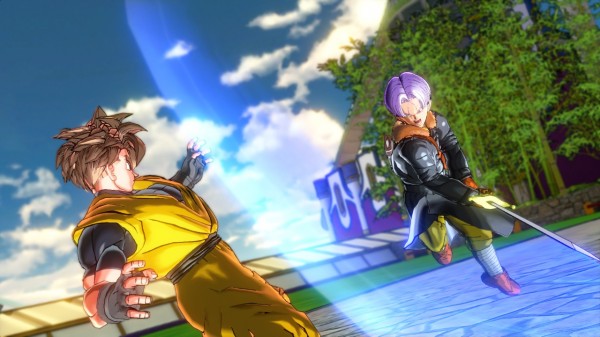 When Dragon Ball Xenoverse releases in 2015 for the Xbox One, PS4, Xbox 360 and PS3 it will be one of the few Dragon Ball games to feature a character creator and from the screenshots we have so far it already seems to be leagues above the character creator featured in the poorly received Ultimate Tenkaichi. According to the official Bandai Namco tumblr page:
Players will have a wide variety of customization options to choose from including physical features from the Earthling, Majin, and Namekian races to name a few. Once you create your characters, you'll be summon by Trunks to complete a series of challenges to begin your path in this Dragon Ball adventure starting in the hub area, Toki Toki City.

The Tumblr page goes on to say more details will be revealed in the coming weeks and that a Closed Beta is also planned which we will definitely be covering on Capsule Computers once it becomes available. It now seems very likely the red headed mystery warrior was indeed a custom character as many had predicted, but we will wait and see for an official comment before jumping to conclusions. Interestingly, the game seems to be taking more and more features from cancelled MMO Dragon Ball Online with the female Majin model looking identical to the one used in that game. Don't forget to check out all our past coverage on Dragon Ball Xenoverse to get all the information on the game that has been announced so far.
---
[UPDATE] It has been confirmed that the mystery fighter was indeed a created character, meaning that your human or possibly Saiyan character will be able to transform to at least the first stage of Super Saiyan. Several new official artworks have also been added to the gallery below showcasing the types of characters you can create displaying both race and gender differences. Lastly, another official post by the website gave us some more exciting details, expanding on what we can expect from the story and customisation.
This new fighter will be YOU! It all starts when Trunks summons the hero to enquire him about a secretive mission! All of the major DRAGON BALL's species will be available as a basis for the players' avatars, among them we can already count: Earthling, Majin and Namekian (more to come). For the first time ever in DRAGON BALL's history, our beloved fans (and beyond!) will be intervening within Goku's and his friends breath-taking bouts! After Trunks summons the player's Avatar, he will have to go through a series of tests! Is Trunks checking if the hero is worthy enough fulfil his quest? Whether the Hero succeeds or not in this deadly test, he will be