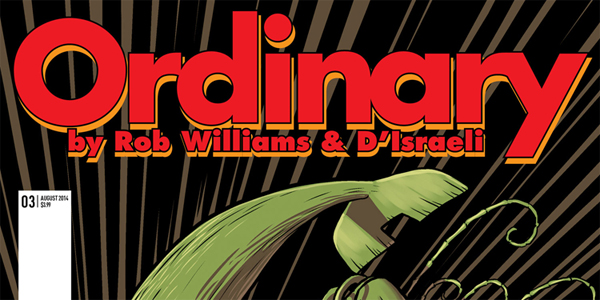 Have you ever wanted to have super powers? You're lying if you say you have never once imagined it. Well this week sees the release of Titan Comics' Ordinary #3. The book's first issue was released in May this year has seen great success and if you love superhero stories with a little taste of the unusual then you don't want to miss this.
Remember that scene in The Incredibles where Syndrome tells Mr. Incredible; "When everybody is special… No one is." Well that is the general concept of Ordinary. Every single person on Earth has gotten super-powers… except for one man. Check out the official synopsis:
One day divorced plumber Michael Fisher woke up in his crummy one-bedroom apartment in Queens, New York, and discovered that everyone on planet Earth had gained super-powers… apart from him. The most ordinary man alive has now made it into Manhattan, hoping to rescue his estranged son, Josh, from the creature trapping him in his school. Meanwhile, the Vice-President has effectively staged a coup, taking command of an America braced for super-powered war. And he will go to any length to prevent Dr. Tara McDonald, the Scottish genome scientist, finding a cure for this plague.
Ordinary #3 will be available from your local comic book store, and the Titan Comics official page from July 23rd. We also have a trailer for the book that you can check out below, and for all the awesome comic book news as it becomes available, make sure you stay tuned to Capsule Computers.