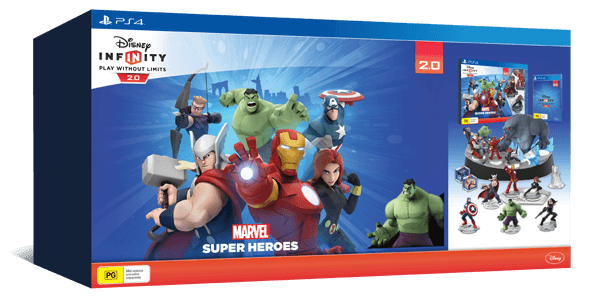 At E3 this year, Sony announced that there would be a special Collector's Edition of Disney Infinity 2.0: Marvel Super Heroes making its way to PS3 and PS4. At the time, all we knew was that it would be the first place that you could get your hands on The Incredible Hulk figurine. Well today, Disney have given us the low-down on what we can expect from the whole set (in addition to Bruce Banner's alter ego).
The Disney Infinity 2.0: Marvel Super Heroes Collector's Edition will come with the Starter Pack (a copy of the game for your chosen console, 2 Power Discs and the Infinity Base to send your figures into the game) and will also include all six Avengers Figurines. That's right, from the get-go, you will have Captain America, Iron Man, Thor, Black Widow, Hawkeye and Hulk at your fingertips. As if that wasn't enough, you will also get an incredible light-up diorama stand that features a large Frost Giant from the Avengers Play-Set, and spaces for all 6 Avengers, PLUS one additional spot for an as-of-yet unannounced character (I would be incredibly surprised if the unannounced character isn't Loki).
The Collector's Edition will cost you $249.95 and is only available for pre-order through EB Games in Australia. So are you a Playstation owner who will be slapping down a pre-order for this bad boy ASAP, or do you only own an Xbox console and are disappointed that we have to wait an extra month to get Hulk in our collection? Whatever your thoughts are, let us know in the comments below. For a further look at the Collectors Edition, check out the small trailer below and as always make sure you stay tuned to Capsule Computers for all the Disney Infinity news as it becomes available.