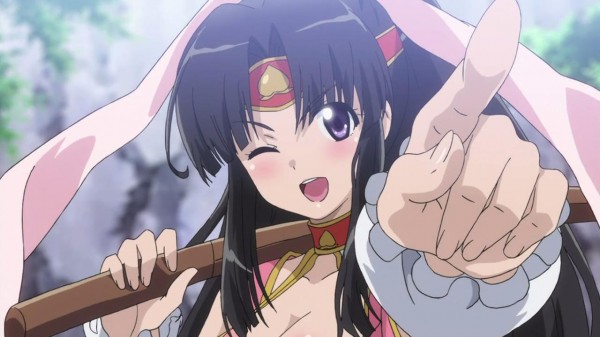 While Momokyun Sword has been streaming on Crunchyroll since the series began airing in Japan a few weeks ago, it had not been picked up for Western home release. Well today Sentai Filmworks has announced that they have acquired the license for Momokyun Sword and are planning on giving it a home release sometime in the future.
This fan-service heavy comedy adventure is being directed by Shinsuke Yanagi while the animation is being handled by Project No. 9 and Tri-Slash. As for the series itself, Sentai Filmworks describes the series as follows:
It was written in the stars the day Momoko came down the river, floating inside a giant peach found by an old childless couple. Although her fate might not yet be known to her, she was brought to this village to defend it. Now that she is all grown up, Momoko is prepared to fight. And while she might not be the sharpest sword in the sheath… what she lacks in smarts, she makes up for with her unwavering determination! Evil lurks in the distance as an army of ogres are planning to invade.

Along with her talking pet dog, monkey, and peasant – who just happen to also be gods – Momoko must protect and recover the Michimi Peach Fragments that are scattered all over Japan before its pieces fall into the wrong hands. Fragments of a holy peach of incredible powers, these powers could be harnessed and used for evil – – and exactly why the army of ogres are coming to invade. Luckily for our she-ro, Momoko has teamed up with a bevy of beauties that call themselves the Celestial Maiden Squad. Maron, Suika, Ringo, and Karin, too, have a bone to pick with the menacing monsters.

Together, the girls join forces as loli-warriors in order to stop the pillaging. Will they have what it takes? And will Momoko get the "on the job" training she needs, or fail in the process? Either way… prepare for a battle like no other as beautiful babes must battle in a Feudal Japan fantasy world in Momokyun Sword!