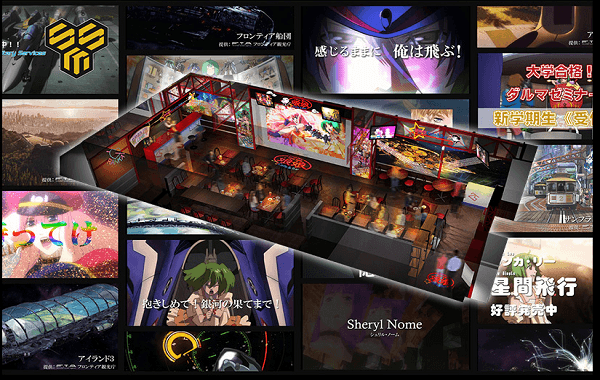 Anime themed cafes are a great way to further immerse yourself in the overall atmosphere of a series, Macross Frontier fans will get their chance to experience this when the MacrossF Café and Bar opens at Namcos' Characro on the 27th of July.
Located in Ikebukuro Tokyo, the Characro will have all the traditional elements of a themed cafe; dishes and drinks inspired by the anime series, special merchandise that can be purchased within the cafe and decor that fully captures the essence of the show. In this case the MacrossF Cafe took its inspiration from the Nyan Nyan Restaurant in the show, fans will also be happy to know that the opening day will be on Alto Saotome's birthday, a special cake dish and coaster will be available until August 10th.
Unfortunately the cafe is not open to all the public as the official website requires you to make a reservation, further more you only stay inside the cafe for a total of 100 minutes for each reservation. The Characros' Macross theme celebrates the 25th anniversary of the series, let us know what you think about the cafe and what other anime themed cafes you would like to see by leaving a comment down below.